Scrapbooking Page Layouts
3 photos of my original layouts

Scrapbooking Page Layouts – 12 x 12 page of family photo in the mountains, simple layout with a mini album for multiple photos all about our family devotions, ORCS - my kiddos playing in the mud. I used ribbon, rub-ons, blue vellum, staples, fastenator staples and hand journaling to create these designs.
More Layouts 1 2 3 4 5 6 7 8 9 10 11 12 13 14 15 16 17 18 19 20 21 22 23 24 25 26 27 28 29 30 31 32 33

Scrapbooking Page Layouts 1 – Family Photo in the Mountains

This is one of my easy scrapbook pages. You can find some more here. I used plain white card stock for the background. Next, I added the blue vellum and then the 4 x 6 photo on top of that. Then I used a punch out sheet from KIMemories for the 4 squares. I love this! It is using what I would normally think of as trash for an awesome scrapbook embellishment. Like I said, it is the page that is leftover after punching out other elements. I just cut out the 4 squares and used them as an element on this layout. See what I'm talking about! The title circle is one other punch out elements from the sheet I'm talking about. I used rub-ons from Making Memories – Providence small white. I also added the square punch out from another line. Finally, I did some hand journaling inside the 4 squares. So simple...I love the way it turned out. Originally, I had something completely different in mind which I posted on my Facebook Page but that is what is so fun about the creative process – you never know exactly what you're going to get. : )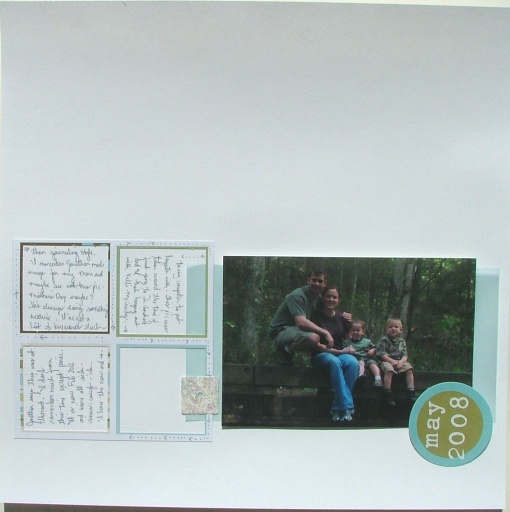 Scrapbooking Page Layouts 2 – Family Devotions

I try very hard to do devotions with the boys at breakfast every day. Obviously, we aren't perfect and it doesn't always happen but it is definitely something that is part of our routine. Anyways, I decided that it would be important to have a scrapbook page all about it since it is a big part of our lives. The photos are from 2 or 3 years ago. That shows you how I scrap. Even if I don't have time to do a page about it at that moment, I try to take pics of things that I would like to scrap – whenever it gets done. I used to thing very chronologically about memory keeping and then I realized I would never get everything scrapped...well, duh! If I did that, I would never actually live. So, I really learned from Ali Edwards and other about everyday real life scrapbooking. And just doing what I can. It is so much better then getting caught in perfectionism and not recording any memories.
So this is just a plain blue piece of card stock for the background. I then added the cool circle pattern – American Crafts – Play Ring Around the Rosie. Then...my favorite part! I made a mini album to put on my 12 x 12 page. I love doing this when I have just too many photos for 1 design. It makes it so much easier than having to create multiple pages for one topic or event. For this mini book I just used white card stock and stapled it together. I used my fastenator staples to attach the black ribbon and then I used rub-ones from Making Memories – Hudson/black. I love rub-ons!!! So, that really turned into a simple scrapbook layout too! Yay!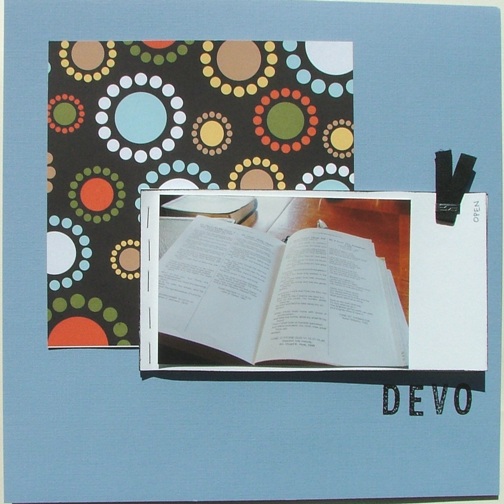 Scrapbooking Page Layouts 3 – ORCS – My kiddos playing in the mud

Wow! What a memory. This is one of my favorite scrapbooking page layouts! They love playing in the mud and they have ruined tons of clothes this way. I have specific clothes in the garage just for playing outside. We call them "grunge clothes." But after they play in the mud like this, we just have to throw the clothes away...they are so stiff and nasty. What memories, though. I remember them saying, "Look, Mom, we're Orcs!" Oh my.

I have another fun 2 page layout all about "Lava City" - it was when my boys were studying about volcanoes and they played out in the garden building volcanoes in the mud. It is from the December 2010 edition of The Real Life Scrapbooker's Resource. You can find it by subscribing and clicking on the backissues link in your welcome email.
See more scrapbooking page layouts from time to time....