Easy Scrapbook Pages
super simple ideas for quick original layouts

Easy Scrapbook Pages – see photos and read all about how I used rub-ons, transparencies, wallet size photos, fibers, eyelets and stamps to create these amazingly easy layouts all from my real-life!
More Layouts 1 2 3 4 5 6 7 8 9 10 11 12 13 14 15 16 17 18 19 20 21 22 23 24 25 26 27 28 29 30 31 32 33



Easy Scrapbook Pages 1
This one was so fun because the layout and colors mimicked the game we were playing in the photos – Cranium. I started with a 12 x 12 piece of black card stock and then cut out the 4 colored squares to mimic the Cranium board. Then I matted the wallet size photos with black card stock and then mounted them. I used rub ones to form the title HOUCKS and CRANIUM. The little black squiglies are stamps. I guess I actually printed the journaling on the red card stock before I cut it into a square and then added the rub ons to spell HOUCKS...the last name of our friends we were playing with. : )
Easy Scrapbook Pages 2
I love the vintage feel of this photo. This is 3 generations in a photo we took while were visiting my Grandmother's house. I started with the cream colored 12 x 12 card stock and then used strips of rub-ons to form the criss cross pattern. I placed the photo in the middle and then did my hand journaling in the 4 outer corner squares. I did the journaling in bullet format to keep it simple. All I needed was card stock, rub-ons, 1 photo and a pen. Super Easy!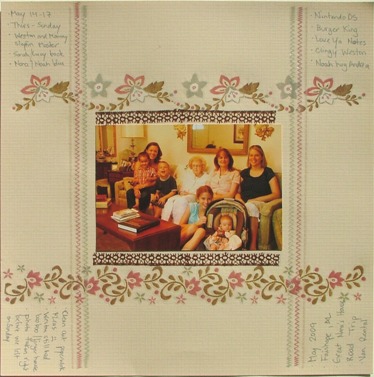 Easy Scrapbook Pages 3
This layout is layered. It starts with a plain 12 x 12 white sheet of card stock. Then I placed a piece of 12 x 12 patterned paper over that. I tore it from the top right corner to the bottom left corner...it is the black and white swirl pattern you see. Then I matted the photo with red card stock and then placed the transparency on top. To give it a bit more dimension, I placed eyelets on the top right corner and the bottom right corner and strung the fiber through them. I also placed two eyelets in the top left corner and tied the little heart punch out to the layout with the same fiber. Finally, I added the little silver curly cue embellishment. This was also super easy! The transparency did all the title and journaling work.
More Easy Scrapbook Pages from time to time....