Scrapbooking Examples
3 simple scrapbooking layouts from my own collection
Scrapbooking Examples - Here are 3 of my layouts. If you're like me you tend to stick to what you know when it comes to scrapbooking, but as a result you end up with pages that all look very similar. Part of that is just developing your own style and that is good, but sometimes it's better to stretch your creativity and that's what I did with these scrapbook examples. I challenged myself to do 3 layouts with only plain cardstock, photos, and a few embellishments. And I did it! The 3rd layout took me all day. I didn't actually stand in front of it for that long, but I kept poking at it as I walked by and finally it came together. So, stick with it if you have a layout that just won't seem to work and try some simple scrapbooking.
More Layouts 1 2 3 4 5 6 7 8 9 10 11 12 13 14 15 16 17 18 19 20 21 22 23 24 25 26 27 28 29 30 31 32 33

Scrapbooking Examples 1

My son Noah is a Thomas the Train fanatic and his Grandma and Papa got him the 60th Anniversary set for his 2nd birthday so I just had to create a layout for his "train stuff" as he calls it. I'm working on some Thomas the Train scrapbook examples for his DVDs and other Thomas stuff…we'll see? Read my blog for updates on that. This layout is some pretty simple scrapbooking and I think I might change my style? Probably not but it was fun to get a layout done so fast. The circles are something I picked up at Hobby Lobby in the unfinished wood section. They are just wood chips – kind of like chip board but a different twist. I had some circle alphabet foam stamps so I just stamped the T H O M A S on the wood circles and drew dots on the small ones. Then along the bottom I wrote out the sounds for the Thomas the Train theme song that Noah and I are always humming and then on the right faded it into C H O O…. C H O O. How's that for a simple scrapbook example.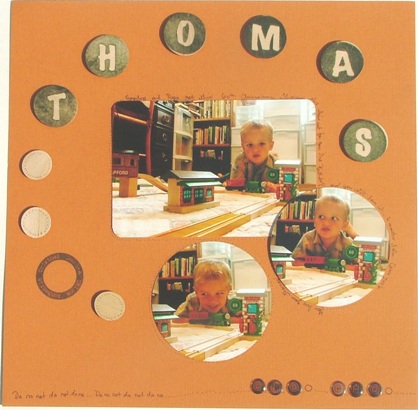 Scrapbooking Examples 2

Here is my second of the 3 simple scrapbook examples. "Our Little Family" is a phrase that we say around here when we're all snuggling on the sofa or reading stories in bed so that became the title for this layout. The photos were taken at a conference we went to recently. Once again I accomplished a layout with just cardstock, photos, and a few embellishments. : ) The circles are an alphabet set I had – they are black with silver letters and rims. The large F is a chipboard letter and the black band across the bottom is a black gro-grain ribbon. The rectangles under the band are done with a stamp and black ink. The squiggles are also a stamp. The "Little" and "Taylors" are done with an embossing labeler I picked up in the office section of Walmart for $10.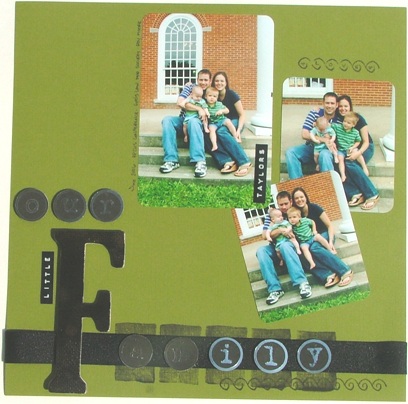 Scrapbooking Examples 3

This is the layout that took me forever, but I was so pleased when it finally came together. It is just a piece of 12 x 12 brown cardstock and the circles were all done with two stamps and my vintage sepia inkpad. One of the stamps is the large circle and the other is the four progressively smaller circles. I just combined them to form the borders. Then I just dabbed the edge of the larger circle stamp to form the arcs. Finally, I added the turquoise and clear jewels for some sparkle and then the white rub-ons for the "together" title. And those are my 3 scrapbooking examples for this page.