Ideas for Scrapbooking Pages
more ideas and layouts from my collection

Find ideas for scrapbooking pages about snow, love and just photos of the people you love! See one layout created with one piece of paper, 2 photos, 8 stickers and 2 pens and it looks like I spent hours on it.
More Layouts 1 2 3 4 5 6 7 8 9 10 11 12 13 14 15 16 17 18 19 20 21 22 23 24 25 26 27 28 29 30 31 32 33

Ideas for Scrapbooking Pages 1
This is the page that used so few supplies and came out looking like I'd spent a lot of time on it. It is a piece of paper from My Mind's Eye – Blue/Stripes and Swirls Item #BH1076A – Bohemia. I placed the photos (one is a 4 x 6 and the other is a wallet size) and then added the stickers – love on the photo; the hinges; listen, work and whisper on the other photo; and the MEMORIES and captured in time on the left side of the page. I doodled a dot/dash pattern around the photos and wrote in my journaling and that was it but I LOVE this page!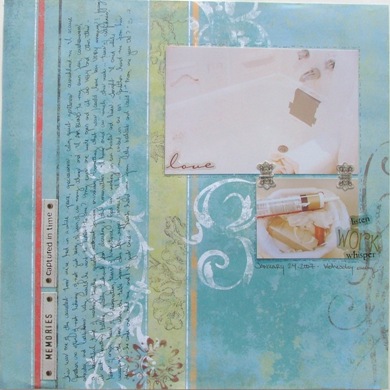 Ideas for Scrapbooking Pages 2
This is my sweet sister. It is also a very simple layout. I started out with a white piece of 12 x 12 card stock. Next, I added the stamping – the flower-like stamp in a pattern of three at the top. The two patterned paper pieced came next and then the matted photo and the title piece. I printed the title out on my computer and then cut the paper and used double sided tape to secure it. Next, came the embellishments – hinge stamps and jewels. Finally, I used the stamp pad and ran it along the page in a semi random pattern. No journaling for this page except the handwritten date vertically in the upper left.
Ideas for Scrapbooking Pages 3
This layout started with a 12 x 12 piece of white card stock as well. Then came the striped piece. I punched out the circles and tore off the right side. I then matted the photo and ran my stamp pad around the border and placed the LOVE letter stickers on the photo. I used the envelope on the bottom left to store some photos that just wouldn't work on the layout but that I wanted to keep. The snow flake pattern is done with a stamp from Stampabilities (Florentine Snowflake C1055). The Sweet and Memories are both stickers.
More Ideas for Scrapbooking Pages....