Free Scrapbooking Images
find Lego Club, Thomas and Friends and Toy Story wannabe layouts
Free Scrapbooking Images – I've posted 3 photos of my original layouts. You'll also find links to layouts about Father/baby, Blogs I read, Sisters, Pumpkin Patch, Snow, SAHM Mom clothes, Potty Training and lots of other. Just click on the My Layout Gallery banner or use the search box.
More Layouts 1 2 3 4 5 6 7 8 9 10 11 12 13 14 15 16 17 18 19 20 21 22 23 24 25 26 27 28 29 30 31 32 33

Free Scrapbooking Images 1 – You Love Lego Club Magazine

My kids love Lego Club Magazine. They look forward to it every month and for a long time, they always talked about the contest in each issue. They wanted to enter every one. Well, I don't know about you, but there are just too many details in life. So, I usually put them off. Plus, they would ask right before the deadline and we didn't have time to build it, have the photo developed and get it postmarked on time. So, I used it as a homeschool lesson/lifeskills lesson. We used their calendar to plan when each babystep had to be done and then get it done that way. It worked great!

The layout: I started with the background paper from The Paper Studio Country Mustard B11-OTF-P09. I'm pretty sure it came from Hobby Lobby. Then came the black stripe paper. I think it is also from The Paper Studio. On the top right under the black paper, I used a Stampin' Up stamp I found at a garage sale. I like the way it reminds you a bit of Legos. I didn't plan it that way but after I got to looking at it some more, it almost looks like it. I also included an insert from the Mag and used labeler tape to make an arrow pointing to the name of the Mag. The insert and the photo have the corners rounded with my corner rounder. I usually just write directly on my layouts for journaling but I was watching some videos over at TwoPeas and was reminded about using journaling strips. It was nice to change it up a bit. These are some of my favorite free scrapbooking images!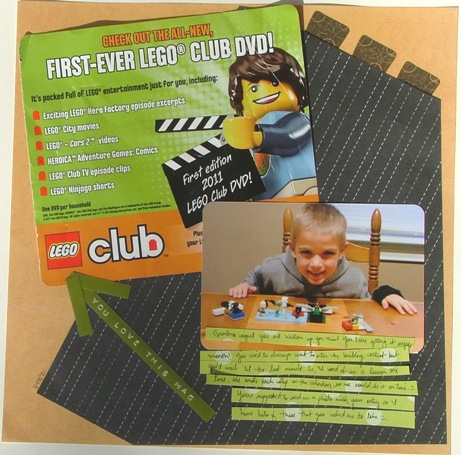 Free Scrapbooking Images 2 – Buzz and Woody Wannabes

My Mother in Law found these super cute Buzz and Woody costumes while thrifting and I absolutely LOVE this photo! It's not the greatest background but I can't make all my pics look professional. That's the real life part of it. : ) It isn't an actual Toy Story layout...just has the characters.

I've had this cut-out background paper in my scrapbook paper stash for ages. I got it at my local specialty scrapbook store and just never figured out what to use it for. Well, I love the way this turned out. The lime green polka dot paper is from, you guessed it, The Paper Studio. I cut strips of the lime and the blue and attached them along the right side of the photo. Then I used the flower stamp ( Stampin' Up) to bring the paper strips together. And then along the left side, you have my usual hand journaling in black pen. I do that a lot. : )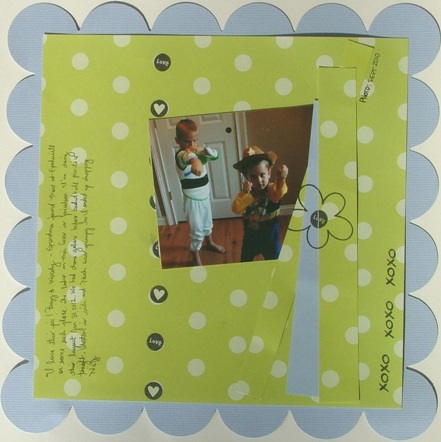 Free Scrapbooking Images 3 – Thomas and Friends

I'm sad to say that I don't sit down and play with my kiddos as much as I'd like but I have more recently. Yay! This was a Saturday morning when there weren't any garage sales. We sat down and pulled out the entire box of wooden train track (that I found at a garage sale) and built a track all over the Den. We've loved Thomas the Train over the years and they are still not quite too old for it but I have to get out the train box most of the time or suggest it.

I used a plain light blue card stock for the background. The logo is just hand lettered colored pencil on white card stock. I used my Fiskars circle cutting system to cut the vellum circles. They are attached with staples. There are also a few word stickers and the little circle dot stamp from Technique Tuesday. I really like the stamps I have from them. And then once again, my black ink hand journaling. : )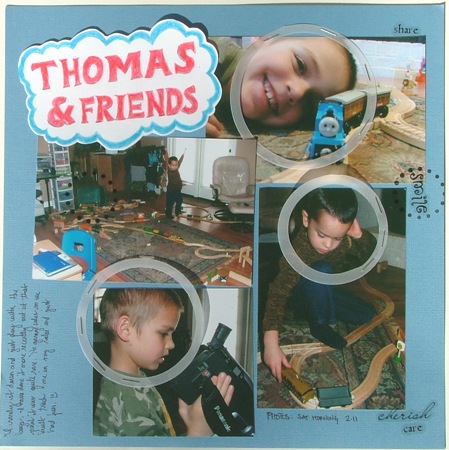 See more free scrapbooking images from time to time....