Scrapbook Ideas
Homeschool, Family Camping and VBS scrapbook pages
Scrapbook Ideas – I've used leftover punch-out pieces, rub-ons, patterned paper, punch outs, hand journaling, staples, circle punch and vellum to create these original layouts.

More Layouts 1 2 3 4 5 6 7 8 9 10 11 12 13 14 15 16 17 18 19 20 21 22 23 24 25 26 27 28 29 30 31 32

Scrapbook Ideas 1 – Home School Geography Page -

This was such an easy page to do and I love the fact that I was able to use old stuff I would usually just throw away. I used the leftover piece from where I punched out some frames in my Colorbok Scrap Pack Earthy Retro. I also used the frames themselves. This design is all about our home school Geography study of the US States and Capitals. We used the songs from Audio Memory and we loved them! The boys learned them in a couple of weeks and they stuck. These photos are from when we first got the kit and were coloring the US map.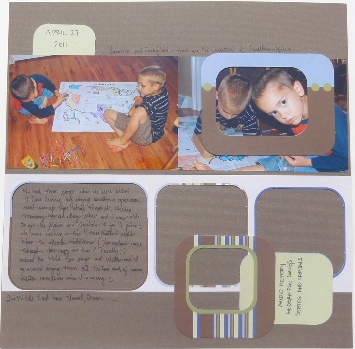 Scrapbook Ideas 2 – Summer VBS Layout -

I started this design with a piece of 12 x 12 card stock. Then I punched out some circles from the polka dot paper and then added it to the white piece. I used the circles that I punched out and used them as embellishments. : ) I did a bit of hand journaling and hand doodling inside the punch outs and I used black ink around the edges of the 12 x 12 layout and the edges of the matted 4 x 6 photo. Finally, I used some foam stamps to stamp the title and added the hand journaling.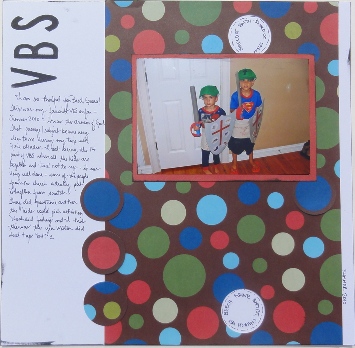 Scrapbook Layouts 3 – Family Camping Layout -

We love to camp. I grew up camping with my family and they still camp. So, now my husband and our family join them usually once a year and go camping! : ) This is all about one of our camping trips. I used 4 4 x 6 photos in a grid shape. I used vellum on top of the 2 on the right side since most of the background of the photos were redundant. I used my Fiskars shape cutter to cut out ovals in the vellum to let the main part of the photo show through. The title is done with rub-ons from Making Memories – Mixed L Bright. I used punch outs from the same punch out pack as layout 1 on this page. Finally, I added the hand journaling on the vellum with a Sharpie.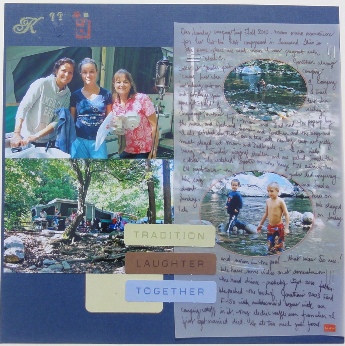 Find more scrapbook ideas from time to time...