Scrapbooking Layouts
valentines layout and toddler dump truck layout

Scrapbooking layouts...wow my titles are getting so descriptive. Some of my layouts are just hard to "put in a category" ...they are just so everyday. So, when I try to tell you about them they sound so plain. Well, on these I used velvet paper, fibers, chipboard, circle punch outs, eyelets, hand journaling, computer vellum journaling, corner rounder and, well, a lot of other things.
More Layouts 1 2 3 4 5 6 7 8 9 10 11 12 13 14 15 16 17 18 19 20 21 22 23 24 25 26 27 28 29 30 31 32 33

Scrapbooking Layouts 1 – My sweet, fun toddler and his dump truck

The background for this layout is a paper by The Paper Studio called Brown Solid B11-ATH-P40...how's that for a fun name for a paper? I'm not sure who did the patterned papers...probably the same company. I think they came from Hobby Lobby. I started off by creating the vertical strip down the middle. I punched out 3 of the polka dots and then tied the orange fibers in the wholes left by the punch outs. Next, I cut out the striped pattern paper and added the coordinating squares with the chipboard in the middle. I made a tag out of it and used my sepia ink pad to embellish it a bit...that is a half circle punch on the top of the chipboard piece. I hand journaled on the plain blue squares and, finally, I matted each of the photos and placed the orange eyelets on the right photo.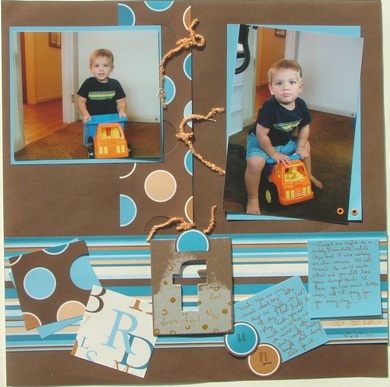 Scrapbooking Layouts 2 – Valentines/sweetheart banquet layout

Left side: The background is a slightly mottled gray card stock. Next, I added the burgundy velvet paper. Then I added the gray fiber strips. I double matted the photo and chalked around the edges of the gray layer. I believe I used a ink pad called InkXpressions tinted embossing ink around the edges first and then chalked over that so the ink would stick. I used my corner rounder on the actual photo corners. I printed out my journaling on vellum and made a title out of the place card from the banquet.

Right side: This side is very similar to the left side. I used chalk on the edges of the gray matting and added the program from the banquet.
Scrapbook Layouts – I have a lot of layouts on this site...browse through the pages in the little nav bar at the top of this page or subscribe to my ezine where I showcase new layouts each month.



See more scrapbooking layouts from time to time....