Scrapbooking Designs
photos of my 2 page golf layout and generations-style layout
Scrapbooking Designs – I used quite a few different elements on these layouts. For the golf layout, I used eyelets, wire, letter stickers, circle punch outs, polka dotted paper, and computer printed journaling on vellum. And for the one of my grandmother and my 1st born I used cardstock, torn paper and corn shuck "stuff" - how's that for being technical...I'm really not sure what to call it. I used mixed media for the title...2 different styles of stickers and some large letters that I cut out of a patterned piece of paper.
More Layouts 1 2 3 4 5 6 7 8 9 10 11 12 13 14 15 16 17 18 19 20 21 22 23 24 25 26 27 28 29 30 31 32 33

Scrapbooking Designs 1
The limy-colored background paper is from SEI and it is called Mellow Yellow. I'm not sure about the coordinated patterned paper...I'm gonna guess it is also SEI since it goes with it.

Left side: The bottom layer is the limy paper and then I added the wide polka dotted strip on top. Next, I punched the holes for the eylets and set them and strung the wire through and bent it into place on the back. The paper came with letter stickers so I used them to form the word "golf." Some of the stickers I added on top of punched out circles to give them more dimension. I then double matted the photo and finally printed out the journaling on vellum and attached it with double sided tape. This works ok on light colored back grounds but I need a better way to attach vellum to dark paper. Any suggestions? I spiced up the journaling a bit by alternating the color for every 3rd line of text. : )

Right side: I coordinated it with the right side by keeping with the vertical patterned paper strips but this time I used 3 different patterns and graduated them from the smallest print to the largest from left to right. I repeated the eyelets and wire across the top. I double matted the rectangular photos and then cut out one in a circle shape. The golf tees and golf balls came together in a package. I'm not sure exactly what they were but I'm going to guess they were from Jolee's - an EK Success brand - I think?
Scrapbooking Designs 2
I love this one because my grandmother is smiling...she mostly just "looks pleasant" in most photos. This is her and my 1st born...so sweet! The background is 2 different papers...the burnt orange card stock and the "paneling print"...sort of barnyard looking. Next, I took the same orange card stock and tore a bit of it and placed it behind the matted 5 x 7 photo. Also behind the photo is the corn shuck "stuff" I mentioned earlier. I think it is actually the "rope" stuff that you can get at craft stores and then unroll to make a corn husk looking material. I like the visual interest it gives. I'm not sure if it is acid free but I like the way it looks. For the title, I used 2 different style stickers and the large letters are from a patterned paper sheet...I just cut out the letters I needed.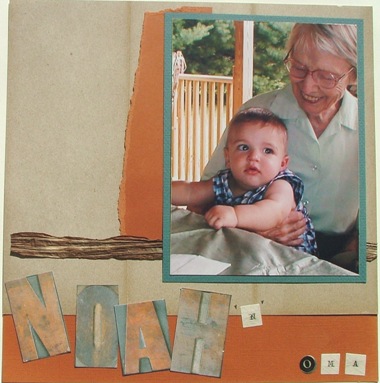 Scrapbooking Designs – you can see more of my designs by clicking on the links at the top of this page.



See more scrapbooking designs from time to time....