Scrapbook Cards
card making photos and how –tos from my own collection
Scrapbook Cards - Get the "how to" on 3 different original designs from my collection. You'll find out how to use pearls, stamps, tissue paper, gift bags and so many other items to create incredible handmade greeting cards.

More Card Ideas....


Scrapbook Cards 1
This is just a simple white card. Next I added a piece of pink paper then a pink a green flower print on top of that. I cut out the petals of the flower under the bow with a blade and self-healing cutting mat. Then I cut the flower print in half with my wavy edge Fiskars scissors and pulled the pieces apart to show the pink underneath. Then I cut out a piece of iridescent tissue paper to size and placed it on top of both papers. I placed green eyelets through all 3 layers and then tied the pink bow through the eyelets. Finally, I stamped the greeting with one of my alphabet stamp sets and matted it on the same pink paper. Voila!…A finished card! You could do this one in about 10 minutes once your supplies are gathered. You can do any of these cardmaking and scrapbooking ideas in any color scheme. Just use what you have.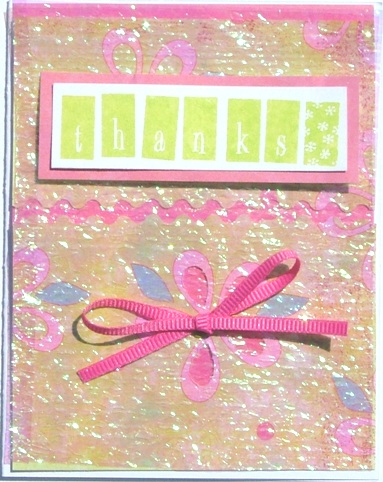 More Card Designs
Every month my e-Zine is filled with fresh scrapbook ideas. Sometimes I will add some card designs in there. And by subscribing, you'll have access to the Member's Only area for even more cardmaking and scrapbooking ideas.


Scrapbook Cards 2
Ooh la la!…a mini gift bag I picked up in the craft section. I just cut the handles off to make this card. The first layer is a copper iridescent paper then a plaid on top of that. I cut the plaid piece with my Fiskars wavy edge scissors and then added a string of "half pearls" I found in the wedding section at Walmart. I used glue dots to fasten the pearls. The "Hi" is white rub on letters from Making Memories. These are soooo easy to use; I love them! The greeting can be written on the piece of paper inside the gift bag. I inked it around the edges and added a half circle with staples to indicate that it needs to be pulled out to read. The accent at the bottom right is crumpled tissue paper secured with a staple and covered with a half circle punch of the same iridescent paper. Finally, I inked the entire card with vintage sepia ink around the edges. You could use any of these ideas and techniques in your scrapbooking as well.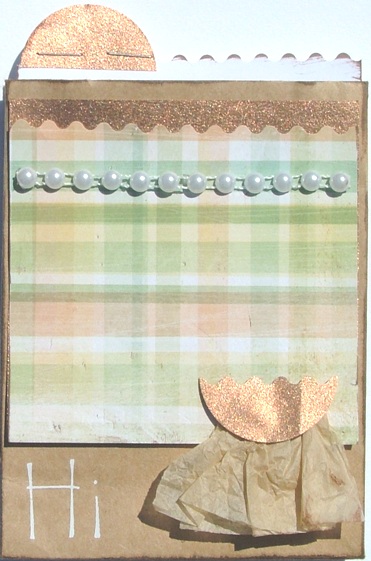 Scrapbook Cards 3
This one was so quick and easy! It is a white card with criss-crossed strips of burgundy velvet paper. I cut out the silver glitter heart from a piece of patterned vellum that I just happened to have. You could just take a piece of plain vellum and use a heart stamp with embossing ink and silver or glitter embossing powder.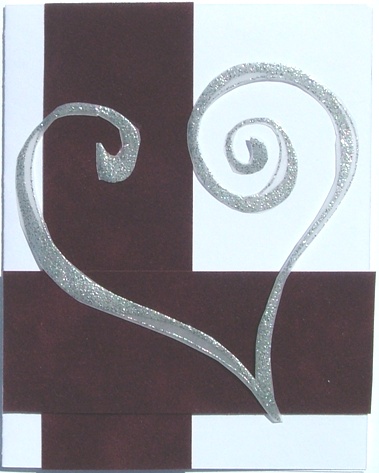 See more scrapbook cards from time to time...