Layouts for Scrapbooking
Heritage, Love and SAHM layouts

See layouts for scrapbooking about love, SAHM clothes and a heritage layout all from my personal collection. I've used buttons, stitching, ribbon, vellum, suede paper, jewels, flower embellishments, circle punches and glitter glue. Be inspired!
More Layouts 1 2 3 4 5 6 7 8 9 10 11 12 13 14 15 16 17 18 19 20 21 22 23 24 25 26 27 28 29 30 31 32 33

Layouts for Scrapbooking 1
Heritage inspired layout...this is Noah and Nana. This page took me longer than usual because I actually used a needle and fibers to stitch the two tan pieces of faux suede paper together. I placed a brown piece of card stock behind where faux suede paper is stitched together. I used a pattern piece that had lace, musical notes and polka dots for the other elements on the page. I cut along the edge of the lace and separated the paper and placed one strip down the left side and two of the other pieces on the right side under the photo and vellum. I then added the two ribbon strips – one on each side and then buttons. Then I printed out my journaling on vellum and attached it and finally placed the final button and clear flower embellishment.
Layouts for Scrapbooking 2
Oh, my crazy husband! That is the inspiration behind this layout idea. We were at the park hanging out and he does that bottle trick you see in the photo. I caught it on camera and this layout was born. The title is You Make Me Laugh. I hadn't planned to make the ME stand out on the line above but I forgot to include it when I was stamping so I added it and I like the way it turned out. The background for this design is black card stock. The placement of the photos and a few other things were inspired from a layout in Creating Keepsakes – my personal favorite scrapbooking magazine! I then personalized it for this layout. After the black card stock cam the green and black polka dot paper. The next layer is the tan pattern paper that the title is stamped on and the strip along the bottom under the vellum. Then the matted photos came next. I had 3 or four similar photos and I didn't want to put 3 or 4 4x6's on the same layout so I cropped just his face to get the silly effect. Before I attached the tan pattern paper I punched out half circles just for interest. I printed out my journaling on vellum and attached it and then place the black ribbon above it and put the circle stamp matted on black card stock as the final accent.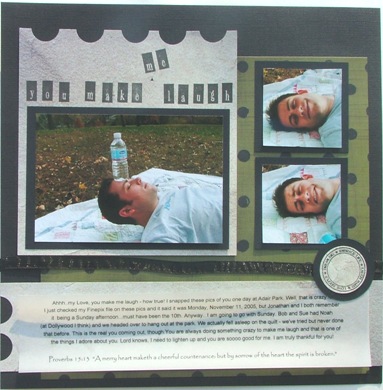 Layouts for Scrapbooking 3
This layout was inspired by my wardrobe. I was a fairly new SAHM and I had a closer full of dressy/career clothes so I took a shopping trip. This is what came of that shopping trip. In some ways looking back it seems to be silly to do a layout all about clothes but it is the REAL stuff of life – something that I was inspired to scrap by Ali Edwards. I always like her real layouts! I did something a bit different on this one. Instead of using one 12 x 12 sheet for the background I used two. I cut them each down just a little bit and then offset them. I then matted the Old Navy photo and cut out each of the clothing photos with my Fiskars circle cutter. I matted two of the circles – one with a patterned piece and one with black and then punched out little half circles around the edges. I added a few embellishments and stickers for the title and then the journaling is on the back. I copied a few pages out of my real journal and attached them to the back.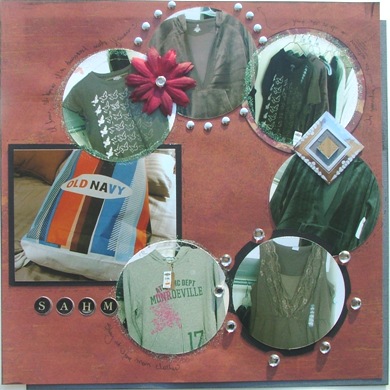 See More Layouts for Scrapbooking....