Scrapbooking Sketches
6 of my original sketches
Here are 6 of my original scrapbooking sketches; I've included themes and journaling ideas for all but one so you can use them as is or customize the drawings to fit your theme and ideas.


More Sketches 1 2 3



Scrapbooking Sketches – Sketch #1

This is the sketch that doesn't have a theme or journaling inspiration with it. I just love the overall design. I've been inspired by Creating Keepsakes to use more circles and I love the affect. All of my sketches are to scale for 12 x 12 layouts. So the main photo here is a 4 x 6 and the sub photos are wallet size. You can create the circle with your favorite circle cutting system or as I do sometimes – just use the right size bowl out of your kitchen to trace and cut out. : )

Scrapbooking Sketches – Sketch #2

Sketch # 2 was inspired by my constant struggle to keep my house, car, person, and yard groomed and in shape and style. What a laugh, right, or maybe you're one of those people that do have it altogether? Well, I wish I did, but most of the time when I look around at my house or yard or whatever I just see the defects. So I created this sketch and journaling to inspire me to remember what is truly important as I work to create order and beauty around me: "When I watch TV or look at magazines or go to someone's house to visit when they're expecting me, I often start thinking 'What's wrong with me? I'm doing good to get a shower most days.' There are days that I get sucked into thinking that it would be ideal to walk around with every hair in place, my nails perfectly manicured, and my house with everything in place. And, sure, I shoot for that. But is that what I really want? I'm not sure – sometimes I do, desperately and I push people away trying to get it. But can I really snuggle with Noah on the sofa or play outside with him and not perspire? Can I feed Weston without a mess or fill the house with the smell of break baking without dirty dishes to testify? Can any of us really live in sterilization? Do we want to? Sometimes…but not always!"
Scrapbooking Sketches – Sketch #3

Lest We Forget – Free Scrapbook Ideas Sketch #3 is all about my need to remember. The journaling for this page is going to be the entire chapter of Deuteronomy 8. It is all about remembering God. I am going to use this layout to highlight a specifically trying time in our lives and how God delivered us. So that when my heart becomes proud, I can remember. I am planning to put keywords in the circles that remind me of certain parts of the trial.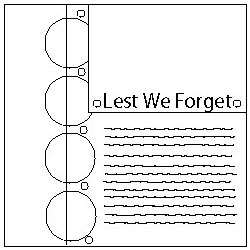 Scrapbooking Sketches – Sketch #4

My little boy is growing up too fast so I created a sketch to capture the things that he says right now. I hope these "catch phrases" will take me back to now when I look at this layout a year from now. I thought I would put together 4 different pics of his face and put them in the circle and then journal his phrases on the 3 tags in the bottom right corner.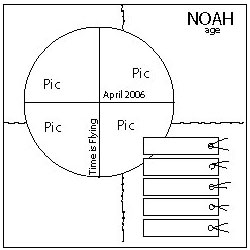 Scrapbooking Sketches – Sketch #5

Here is one all about me. Hopefully, this won't look vain to my descendants. : ) But, you know, as I look through all of my pics and scrapbook pages, I am rarely in any of them. I do have my journals, but someday, my kids might want to see me? So, this page is going to be all about my ( I like…I Say…I Don't Like…Others Say…)
Scrapbooking Sketches – Sketch #6

I got the idea for this sketch when I took a photo of my son's feet last summer. It turned out so cute and someday I'll want to remember what those chubby little feet looked like. Then, the thought progressed to all of our feet. So, this layout was born - my husband's feet, Noah's feet, Weston's feet, and my feet. Mine will be the only ones with painted toenails; sometimes I feel very outnumbered in my family. I want to do layouts with pink and flowers and sparkly stuff : ( !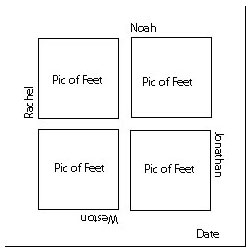 See more scrapbooking sketches from time to time....