Free Scrapbooking Layout
beach scrapbook page and Ashtaroth
Free Scrapbooking Layout – 2 photos of my layouts...one is a beach themed layout and one is about our dating years and an ongoing competition between my Dad and my now husband. : ) You'll also find links to pages about potty training, blogs I read, sisters, snow, pumpkin patch, organization, and one with a DVD tour of our book collection.
More Layouts 1 2 3 4 5 6 7 8 9 10 11 12 13 14 15 16 17 18 19 20 21 22 23 24 25 26 27 28 29 30 31 32 33

Free Scrapbooking Layout 1 – Beach

This beach scrapbook page took me 5 years to complete. Just kidding...but I've had the supplies and the scrapbook kit for 5 years. We don't go to the beach very much at all...like never. I think this was our one trip as a family. I bought the stuff soon after we took the trip but I could never get the page to turn out like I wanted. I still have an entire drawer full of beach themed scrapbook supplies that I didn't use. Maybe I'll scrap my sister's beach trip/s? Anyway, I used some stuff from a kit I got at Hobby Lobby I think. It is by Markings by CR Gibson. MSC12K-4044. I don't think the ribbon tag along the bottom came with the kit. I used patterned paper that looks like water for the journaling strips and a piece of twine that came off of some packaging for the "Beach" tag. I also used some vellum to get a softer look and used my corner rounder on the photos.
See my wine glass scrapbook mini album all about this same beach trip.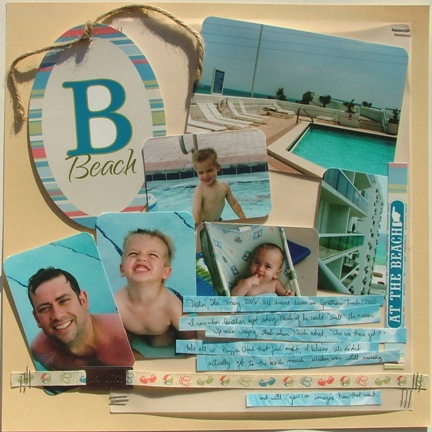 Free Scrapbooking Layout 2 – Ashtaroth

In the last couple of years I've done a lot of cleaning out and decluttering. As a scrapbooker, it is SO easy to keep too much stuff. I have the "preserving bent"...that just goes with scrapbooking. But...that doesn't always work well with the present and real life so I've listened to Flylady and gotten rid of a lot of stuff. One day while going through a box in the garage, I had to go through stuff from mine and my husband's childhoods and dating years. I got rid of a lot of it but took pictures so I could hold onto the memory. Photos take up a lot less space than the item itself. This is one of the things I got rid of. But I decided it needed its own scrapbook layout. My Dad called it the Ashtaroth. Not sure what that it? It is basically an idol. During our dating years, my Dad and my now husband used to play tennis and whoever won that game would get to keep the Ashtaroth until the next game. I'm not sure how the plastic bull came to be the Ashtaroth but that's what it was. So, I created this page and wrote all about it.
The background paper is from The Paper Studio – Rust/Mint Geometric – B11-UMBJ-P35. I love the way it was already broken up into segments. I used each of the geometric shapes to place different embellishments and journaling. The circle stamps are from Technique Tuesday - Infinite Wisdom Times to Treasure. The title rub-ons are from Making Memories – Hudson – Item#25831. The hand stickers are from KellyPanacci.com – RMKSCBCS5. I got them from my local scrapbook store.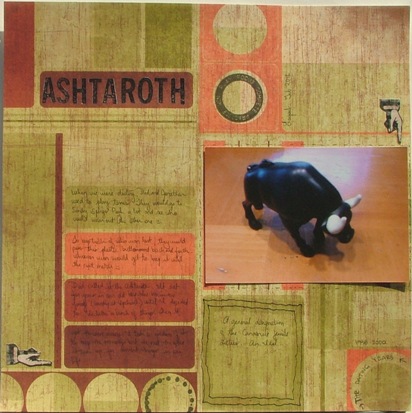 Free Scrapbooking Layout 3 – You'll also find lots of other layouts by clicking on the links to the right of More Layouts along the top of this page. I also post original layouts on my Facebook Page



See another free scrapbooking layout from time to time....