Ideas for Doing Scrapbooking
photos and instructions for a 3 page layout
Find ideas for doing scrapbooking using vellum, torn paper, doodling, ribbon, page pebbles, and coordinating accent punch-outs. Theses layouts are all about simple scrapbooking!

Ok, so…here is the real-life part of these layouts. I know I talk a lot about enjoying the process and not getting so worried about scrapping every picture and having to do all of them in order and this group is a perfect example. These are layouts that have been "in progress" for about a year and a half…real-life happens. : ) When I started them, I just couldn't get them to look the way I wanted so I stuck them in my "layouts in progress drawer" and I recently got a surge of inspiration on them and they are finally done!
More Layouts 1 2 3 4 5 6 7 8 9 10 11 12 13 14 15 16 17 18 19 20 21 22 23 24 25 26 27 28 29 30 31 32 33

Ideas for Doing Scrapbooking 1

As you can see, these are all part of a 3-page layout. I used coordinating paper and a set of "punch-outs" for the accents. These layouts were soooo easy because they were almost like a page kit. The papers and accents were all sold together so I just had to arrange them on the pages. The title on the first one is just a computer font printed on vellum. I did the journaling in my own handwriting with a Zig pen. I love page kits!… They are one of my favorite ideas for doing scrapbooking…especially when I need to get myself jumpstarted. Scrapbook.com has some great scrapbook page kits.

For this layout I started with the blank cardstock and then layered the 2 patterns on top of it. Both of the pattern papers are torn along the top edge. Then I double matted the photo and angled it. The "shape chain" is made up of accents that I punched out of the "kit." I cut each one and linked them together and then positioned the cut behind the shape next to it. The circle accents on the bottom left were done with my circle punch and then I placed page pebbles over them. Finally, I added the title with computer font printed on vellum and then added some doodling with my Zig pen.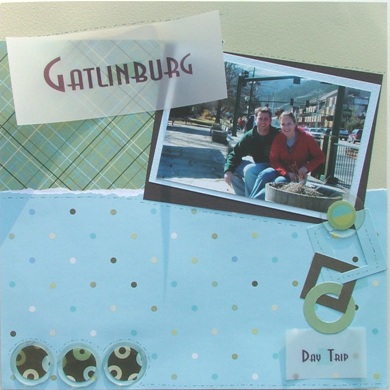 Ideas for Doing Scrapbooking 2

Once again, this layout started with a piece of blank blue cardstock. Then I cut a large square of brown cardstock and cut the large circle out of it with my Fiskars circle cutting system. Then I put the large brown circle to the left of the square. Then I tore the top edge of the polka dot paper and placed it over everything. The 3 squares and the oval are accent punch-outs from the kit.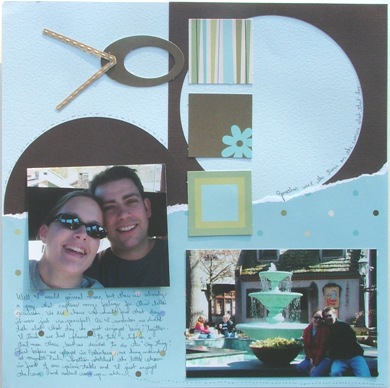 Ideas for Doing Scrapbooking 3

This layout began with the same solid 12 x 12 cardstock as the 1st layout. And if you look at the 1st one you can see that #3 is basically the inverse of #1 – the bottom layer is solid cardstock followed by the torn plaid and then the torn polka dot. It also has the large brown circle repeated from the second layout. The 2 horizontal pieces are Making Memories ribbon and all of the accents are once again from the punch out sheet. You can see how scrapbooking kits are so easy! You can find them at your local scrapbook store, scrapbook.com, Joanns, and many other places.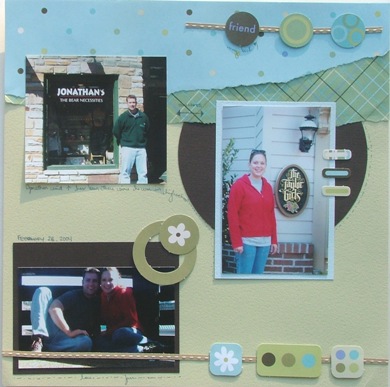 More Ideas for Doing Scrapbooking....