Free Scrapbook Page
Road Trip, Dad and Son, A Story about Hiking Boots
Free Scrapbook Page - Find layouts about A Road Trip, Father and Son and A Story about Hiking Boot
More Layouts 1 2 3 4 5 6 7 8 9 10 11 12 13 14 15 16 17 18 19 20 21 22 23 24 25 26 27 28 29 30 31 32 33

Free Scrapbook Page 1
This was such an easy layout to do. I matted the main photo, added the letter embellishments and hand journaled. Wow, what else can I say here? I can't even tell you what the pattern paper is because it is not written on the back. I think it is in the Bohemia collection but I'm not sure. I purchased it a few years ago, but I did the layout sometime this year, I believe?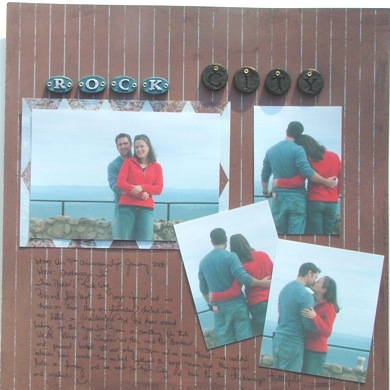 Free Scrapbook Page 2
Dad and Noah is the title of this layout. I love these photos and I'm glad I found a way to scrap them. I cut out the circle photo and mats with my Fiskars circle cutter. The background paper is from Paper Loft (paperloft.com) patter Sanded Geometric Cardstock series. I printed out the journaling on vellum and attached it with double sided tape. I also ran a ribbon along the top with the letters DAD on it and a ribbon along the bottom all the way across.

Free Scrapbooking Page 3
This layout started with me cleaning out our storage room and finding these old boots and wanting to get rid of them. My husband didn't like that idea so I suggested we take a picture of them and he write about them for posterity. So, it starts off with the grey card stock. The journaling block in the upper left corner is a sticker. I created a pocket out of the photo in the upper right corner and placed my journaling in there. Then I added the 3 wallet size photos along the bottom right and the large square in the bottom left. I wanted it to look similar to a book cover so I added the author – my husband – and the hinge stickers. Now, he just has to do the journaling. It will be interesting what he can still remember about those boots!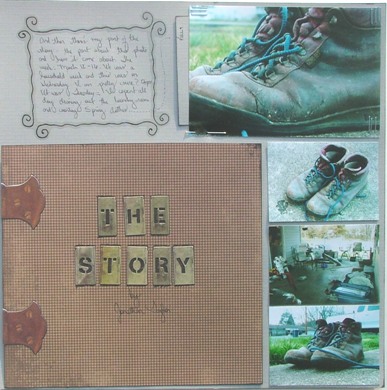 See another Free Scrapbook Page....