Baby Scrapbook Layouts
3 of my original layouts all about baby
Baby Scrapbook Layouts - See how I used different techniques and embellishments for these baby designs. These are not the traditional baby look – I guess I like something just a little bit different. : ) You'll see how I used giant chip board letters, glitter, a mini accordion album, tissue paper, labels and other techniques to create these fun layouts.

See my son's 8 x 8 baby scrapbook album!

More baby boy scrapbook layouts!


Baby Scrapbook Layouts 1
I used one of my favorite techniques on this layout...a mini accordion album. I love doing this when I have multiple photos for the same event or theme. So often, there are just too many photos to fit on one layout and doing a technique like this helps me to put all the photos in/on the layout without having to actually place them in the design. And I also love wallet size photos...just wish they weren't so expensive. : ) This is a super simple layout. I used a solid color blue card stock and inked around the edges with my black stamp pad. Then I matted the main photo. Next I used the multi colored rub ons to form his name/nickname. I added the "head" on the end. That isn't part of his name – just something I called him at that age. Finally, I created the mini accordion album and put the extra wallet size photos in there. I usually have quite a few from when I am trying to get a "good" one. So the little album has all the other "Noah faces."
See my Youtube video where I show you about these layouts....


Baby Scrapbook Layouts 2
I love the giant "W" chipboard piece. I got that at my local scrapbook store. I'm sure the size of it would make a fun scrapbooking on the wall embellishment. Someday I'd like to try a large canvas layout as an art piece for one of the rooms in my house...someday.... I started this layout with the red cardstock. Then came the blue/brown harlequin paper. I added a tiny jewel to each point where the harlequins meet and I worte in quite a few of the blue diamonds. Next came the chipboard W and then the photo. I used my Fiskars shape cutting system to cut out the circle photo. Then I used my Dymo labeler to create the black accent phrases under the harlequin pattern. And finally I did some hand journaling. It is so sweet to look back on those times!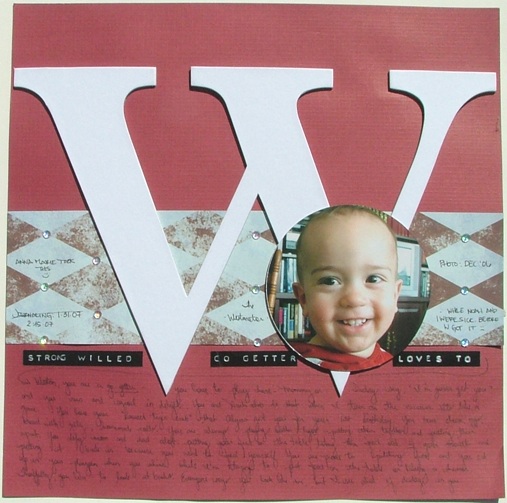 Baby Scrapbook Layouts 3
This layout started with the khaki cardstock. Next came the polka dot pattern. Then I used gift wrap tissue paper for the matting under the photo. I cut it into a square and then crumpled it up and flattened I back out. The tissue paper is also a fun technique to use on scrapbook card designs. Next, I inked the chipboard W with my sepia ink pad and then smeared glitter glue on top of that. I then placed the 3 months sticker in the upper left corner and finally did the hand journaling. I love hand journaling...it makes it so personal!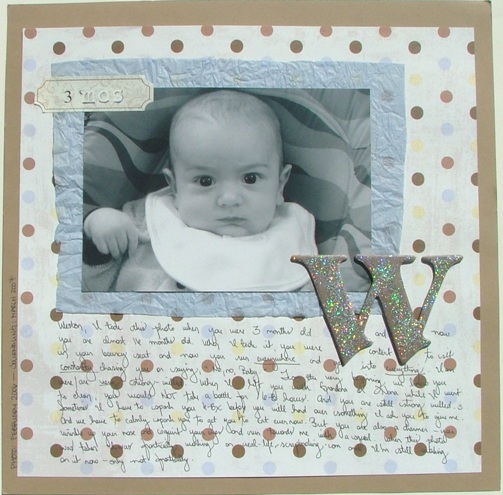 See more baby scrapbook layouts from time to time....