Free Scrapbooking Idea Pages
Heritage, Family and Baby



Find free scrapbooking idea pages for baby scrapbooking ideas, first family photo scrapbooking ideas, and heritage scrapbooking ideas. Plus see how to use vellum, ribbon, torn paper, SEI punch out accents, ribbon, paper crimping, eyelets, and stickers.


More Layouts 1 2 3 4 5 6 7 8 9 10 11 12 13 14 15 16 17 18 19 20 21 22 23 24 25 26 27 28 29 30 31 32 33







Free Scrapbooking Idea Pages #1

Baby Scrapbooking Ideas…my son was about 8 ½ months when I took this photo…it was just a snapshot that I took one day at a theme park. I just sat him on the bench and snapped away. Of course, I had professional portraits done as well, but when it comes to baby scrapbooking ideas sometimes you can get some great shots yourself. This background for this layout is just a simple 12 x 12 solid cardstock. Then I added the torn stripe paper and the torn polka dot paper. Then I added the vellum title and the vellum journaling block. I cut out two solid pieces of cardstock the same size as the photo and laid them out like an accordion and then added the eyelets joined by ribbon. The accents are all from a punch out sheet that came with the patterned paper.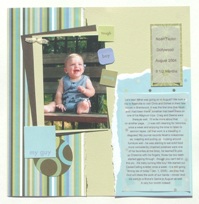 Free Scrapbooking Idea Pages #2

Family scrapbooking project…this layout is all about our first family photo taken in the front yard at my mom's house on a Sunday afternoon. The background is a 12 x 12 piece of blue cardstock. Then I added the polka dot patterned paper. As you can see the accent piece down the right side is the strip I cut off of the left side of the polka dot paper. I just ran it through my Fiskars corrugator and then added the accent word stickers. Next, I cut out mats of green and blue for the photo and spread them apart. I cut off the corners of the mats and the photo and then added the Making Memories ribbon to pull it all together. Finally, I added the vellum journaling block.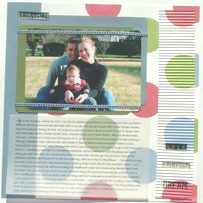 Free Scrapbooking Pages #3

Heritage scrapbooking ideas…here is 4 generations of my family…my paternal grandmother (Oma), my mother, me, and my son. The background for this layout is the putty color paper with the words on it. Then I added the burgundy stitched paper and the torn-looking piece down the left side and the HERITAGE are stickers from the same sheet. Next, I added a sheer ribbon down the torn sticker and attached it with the 3 large eyelets on the top left. Finally, I matted the 5 x 7 photo with the burgundy-stitched paper.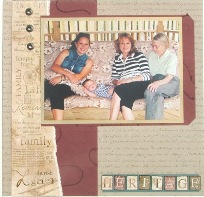 More Free Scrapbooking Idea Pages