Free Scrapbooking Stuff
3 original layouts from my personal collection
Free Scrapbooking Stuff – that's what you'll find here. I have layouts, tips, ideas, links to tutorials, links to my favorite online free digital scrapbooking classes, photos of my layouts and, well, I hope to continue adding a little bit at a time. These are some of my older designs. You can see what I'm doing these days over at my blog or my YouTube channel I try to focus on telling the story but I confess: I do get caught up in the design. My background is in interior design and I LOVE all kinds of design. So, I do my best to balance both aspects of scrappin'. I use baby steps to get things done...Flylady style and you'll hear that come through a lot on my YouTube channel. : ) So, enough blabbing...here are some of my layouts.
More Layouts 1 2 3 4 5 6 7 8 9 10 11 12 13 14 15 16 17 18 19 20 21 22 23 24 25 26 27 28 29 30 31 32 33

Free Scrapbooking Stuff 1
This was a seriously easy layout! The paper did most of the work for me. It is from K&Company. The left paper is item#643077660113 and the right is #643077660175. Left side: The large wording is already printed on the paper. I added the 5 circles on the top left and the strip of smaller polka dotted paper above the large word "family." I also added the green and burgundy photo mats. The finishing touch was the clear circle bubble dots...I don't the technical name for them but they add a nice dimension. Right side: This paper has the block color patterns and stitching already printed on it. I added the large polka dotted paper strip along the top left to coordinate it with the left side and then I added the vertical circle punch outs at the bottom. I did my journaling on my computer and printed it out on vellum. I added a paper mat behind the vellum journaling blocks so that the words would stand out. I just have an ink jet printer and it prints just fine and lasts. This layout is quite a few years old. I do have to let it dry for a while, though.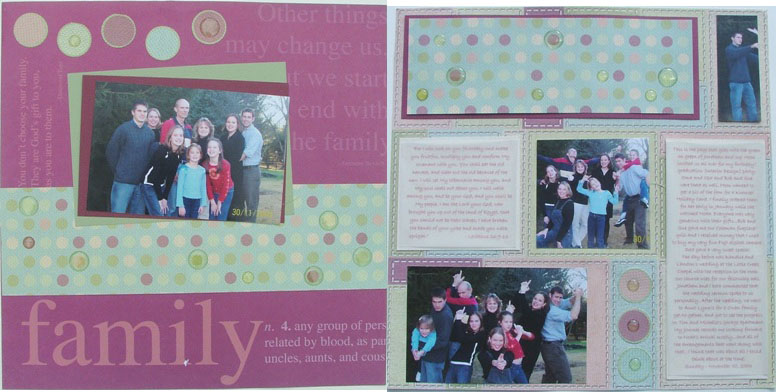 Free Scrapbooking Stuff
Get The Real Life Scrapbooker's Resource emailed to you every month! You'll find inspiration, ideas, layouts, updates, and various combinations of these...all to help you enjoy scrapbooking and not get overwhelmed by it. See what I mean!
Free Scrapbooking Stuff
Another fun layout in block style with vellum journaling – yeah! This paper also came with the color blocks already done. The lower square blocks of light and darker blue are actually separate card stock sewn on with a zig zag stitch. It was already done for me but it is fairly simple to sew on paper with a sewing machine. I actually have a little hand held sewing machine that I use for that. I matted each of the photos and used blue chalk around the edges. It is very subtle. Then I did the white mat for the title. I printed the words on vellum and then attached it to the white photo mat. I did the journaling on my computer as well. I think journaling is SO important – I try to get journaling on every layout so it isn't all just about the design. Of course, that doesn't always happen – but I DO try! : )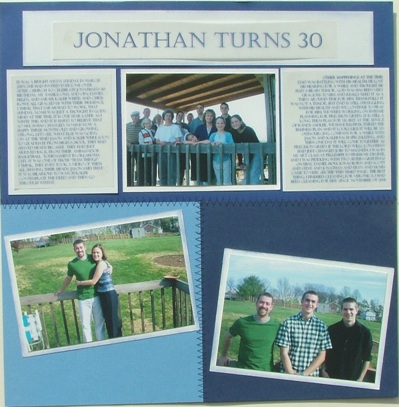 Free Scrapbooking Stuff
I am AMAZED by the free digital scrapbooking resources out there. Check out my Free Digital tab over in the nav bar to see what I'm talking about.