Free Scrapbook Images
Photos of 3 original layouts using bead fringe, lime green vellum, embossing powder and more...
Free Scrapbook Images – I also used hand doodling, polka dot paper, rubber stamps, foam stamps, staples, ric rac and orange fiber. One of these was quite outside my normal style...it's always fun to try new styles!
More Layouts 1 2 3 4 5 6 7 8 9 10 11 12 13 14 15 16 17 18 19 20 21 22 23 24 25 26 27 28 29 30 31 32 33


Free Scrapbook Images 1 - 2nd Grade Math -

My husband cracked up when he saw this photo and the look on our son's face. It is quite funny and one I remember quite a bit from our early home school math days. I still see it sometimes but not as much about math. This scrap design is all about our journey through home school math curriculums. I used the bright colored polka dot paper from The Paper Studio for the back ground. Next, I added the white rectangle and did the orange title. I used my orange pigment ink from my Color Box Petal Point ink pad and then covered it with clear embossing powder and used my heat gun to set it. I used to use embossing powders all the time until my son dumped them all out when he was little. I decided to get a clear one so I could use all my fun colored inks and I'm so glad I did. With a 40% off coupon at Michael's it was very affordable. : ) The .com part of the title I did with rub-ons. I matted the 4 x 6 photo with lime green vellum. I inked around the white rectangular piece of card stock and the small polka dot pieces. Finally, I used some little round stamps and added them to 3 of the circles and added some hand doodling and some hand journaling.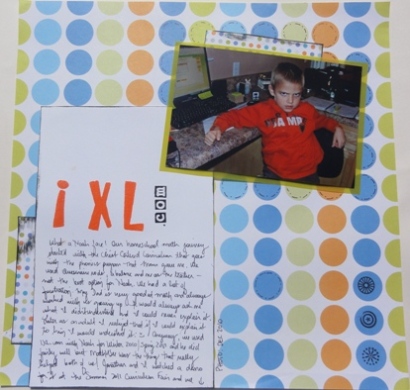 Free Scrapbook Images 2 – Just Plain Silly -

These are some bright colors and a crazy design for me but it was fun to do something a bit different. It was fairly easy since the only photo I used was very plain. It didn't compete with the paper pattern. The photo is of a note that my brother wrote me. I inked around the edges of the back ground paper with black ink, matted the photo with brown card stock and stapled on the 8 ½ x 11" vellum piece. The flower is a foam stamp with pigment ink and clear embossing powder. I used the lime green ric rac and the orange fiber to create a diagonal journal "block."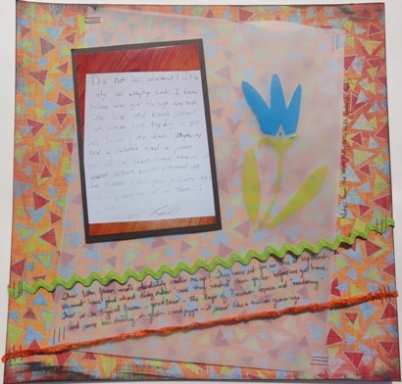 Free Scrapbook Images 3 – Valentine's Layout -

It is hard to tell in this photo but the background paper is actually red tone-on-tone floral with some gold glitter on some of the roses. The next layer is the vellum that I attached with staples but before I did that inked around the edges of the vellum and the back ground paper. Next, I used my black ink pad and clear embossing ink with the "Love" title and the heart. I attached the black bead fringe with staples and matted the photo with black card stock. I added a bit of hand doodling and hand journaling to finish it off. : )
See more free scrapbook images from time to time....