Free Scrapbook Patterns
see how I placed a swimsuit on one of my layouts
Free Scrapbook Patterns - In these 3 original layouts, I used vellum,rub-ons, jewels, Technique Tuesday stamps, staples, chipboard letter and glitter glue. Come see how fun it can be to scrapbook!
More Layouts 1 2 3 4 5 6 7 8 9 10 11 12 13 14 15 16 17 18 19 20 21 22 23 24 25 26 27 28 29 30 31 32 33

Free Scrapbook Patterns 1
I could never understand why people laughed at me so much as a young person. And then as I got older, I realized a lot of it was because of my "I will never" statements...and that is why I created this layout. I said a lot of "I will nevers" and most of them have come to pass. So, the pics are about bread baking which is one of the things that I said I would never do. The others (which I wrote around the perimeter) are get married, have kids, be "uncool", and homeschool. Boy, I'm glad God doesn't listen to me.


I started out with the brown cardstock and then I grouped the photos in the middle. The bottom two are wallet size photos - one of my secret weapons to fit more photos on a layout. Next, I added the Technique Tuesday (Masterpieces of Paisley)stamps around the perimeter of the photos. Then I glued the jewels in various spots on the stamps and finally added the rub ons to spell out "I will never"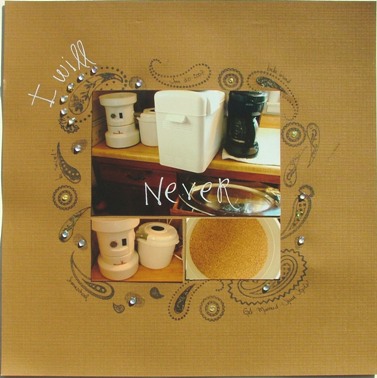 Free Scrapbook Patterns 2
This is the left side of a 2 page layout all about my first swimming lessons whenI was 7 years old. I still remember that quite vividly and somehow the swimsuit survived so I added it to the right sideof the layout. This side is a black piece of cardstock and then on top of that is an 8 1/2 x 11 piece of vellum attachedwith staples. Next, I inked the chipboard S with my black ink pad and then smeared glitter glue on top of that.I then spelled out the rest of the word swimming with stamps. I created the border with the pink and clear jewels and madethe photo part of the border.
And then there is the right side of the 2 page layout. I continued the borderfrom the left side along the bottom. I folded the swimsuit and tacked it down with needle and thread. I used 2 pieces of black card stock for this side to make it sturdier for the swimsuit. There really wasn't a good place for journaling so I think I'll add it to the back.
See more free scrapbook patterns from time to time....