Scrapbooking Page Layout
Christmas, Boys and Atlanta Braves Layouts
Scrapbooking Page Layout – You'll also find lots of other themed layouts...just use the search box. Find 12 x 12 layouts about baby, sisters, pumpkin patch, snow, Heritage, stay-at-home mom clothes. See how to use patterned vellum, ric rac, Technique Tuesday stamps, eyelets, hand journaling, stickers, stamps, wood pieces and hand doodling. I even let my kids help me with the journaling on one of these pages. I love letting them help me. It doesn't work for every layout but it is so sweet to see their handwriting and perspective. : )
More Layouts 1 2 3 4 5 6 7 8 9 10 11 12 13 14 15 16 17 18 19 20 21 22 23 24 25 26 27 28 29 30 31 32 33

Scrapbooking Page Layout 1 – Christmas Gifts My Grandmother

My sweet Grandmother gives me food gifts most years. I love getting a produce basket filled with things like cinnamon, organic coffee, homemade traditional German cookies, Herbamare and such. So, I wanted to create a page all about how much I appreciate it. I used a plain 12 x 12 piece of green card stock for the background. Next, I cut the tan pieces and the patterned vellum in the corners and attached them. I then stapled the red ric rac in place and stamped the snowflakes in the right bottom corner. The final touch was the gift tag from this her gift this year with her handwriting.
Scrapbooking Page Layout 2 – Living with Boys

Oh my! The mud and messes of living with boys. I have quite a few layouts all about mud! I've had this back ground paper in my stash for a long time and I'm finally using it. Yay! It is from Sandylion Tire Tracks Paper. I used a brown piece of card stock to attach the photo and the title to. I used some square wood pieces from the wood craft section of Hobby Lobby. I inked around the edges and used black ink for the letter stamps. Then the little stamps to the left of the brown paper spell out "Living with" to complete the title. Then I needed some inspiration so I got on Pinterest and saw the idea for the little pennant shapes on the right. I used those for my hand journaling.
Scrapbooking Page Layout 3 – Atlanta Braves – 2 page layout with 5 - 4 x 6 photos

This is the 2 page layout that I let the boys help me with. I've let them help me with a few others and I'm always glad when I do. I designed the page and placed the photos and the stamps and then I prepped them on what to write. I actually used it as a school lesson/practice for writing/grammar. My 2nd grader wrote a rough draft and then corrected it and then finally wrote it on the layout. Then my Kindergartner and I talked about adjectives he could write. The title is done with rub-ons and foam letter stamps. I added some hand doodling around the photos and then my own journaling.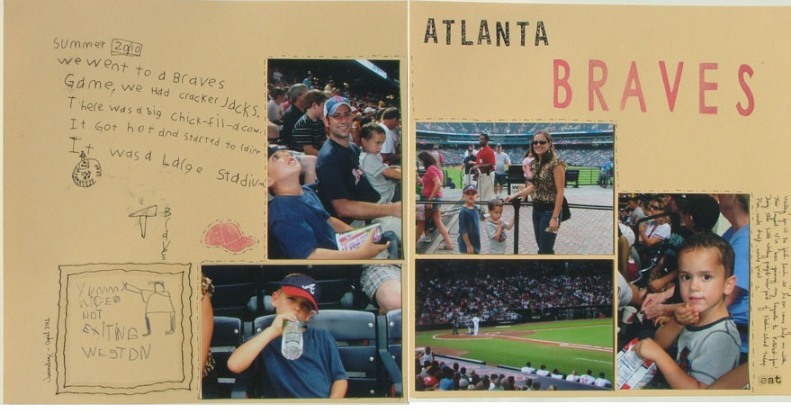 See another scrapbooking page layout from time to time....