Free Scrapbooking Layouts
even more design ideas from my collection
In these free scrapbooking layouts, learn to use fingerprints, note cards, chipboard letters, ribbon, stamps, and vellum. One layout has a Sister theme and one is called Muddle of the Middle – it is all about everyday reality scrapbooking.

More Layouts 1 2 3 4 5 6 7 8 9 10 11 12 13 14 15 16 17 18 19 20 21 22 23 24 25 26 27 28 29 30 31 32 33

Free Scrapbooking Layouts 1
This layout has a subtle Sister theme. The giant chipboard S has the letters ISTERS written out beside it for the title. The orignal idea started out with me wanting to write my sister a note to tell her how much I appreciate her. I never actually did that. But you could actually take this idea and write out your note on the notecard and either leave it closed or scrap it open and then frame the layout (I've seen 12 x 12 scrapbooking frames at Hobby Lobby) and give it as a gift.

So, this layout started with the textured burgandy 12 x 12 sheet. I then cut the yellow green piece with a straight line across the top and cut along the polka dots and separated one piece to show the burgandy piece underneath. Then came the matted photo, the piece of ribbon on the rights side, the decorated note card and envelope. I used the circles I punched out of the paper on the card for the 3 embellishments on the bottom left. The last touches were the fingerprints, the doodling, the sticker words and the stamp for '05. This is the first of the free scrapbooking layouts for this page. Find more here.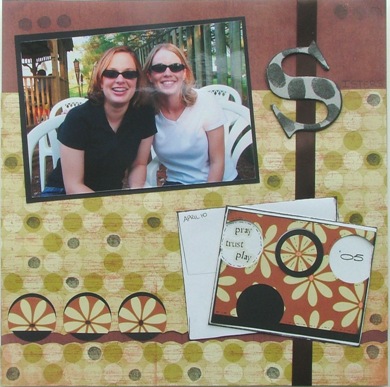 Free Scrapbooking Layouts 2
Here's the journaling for this 2 page layout: "Muddle of the Middle" comes from George Grant's covenant Succession series. God works mightily in the mundane – it's not just about the big stories or the major events in our lives – it's about daily faithfulness. The hand that rocks the cradle rules the world. Last week of September 2006.

This layout starts out with the polka dot paper on both sides. (My Mind's Eye – Live Out Loud Navy/Maroon circles Item # LIV102C) I then used the vellum to play down the pattern. Next came the photos (black and white) and then the title – each of the letters are stickers except fot the chipboard M and the gemstone O. I used a stamp (Stampabilities – Journaling Block OR1025 – I think I got it at Hobby Lobby) to print onto vellum for the journaling block. Use Stazon stamp pads when inking on vellum. I attached the journaling block with screw looking brads. Next, I cut out the red rectangle and cut the circle out of it and placed it over the photo. Finally, I wrote some journaling next to each photo.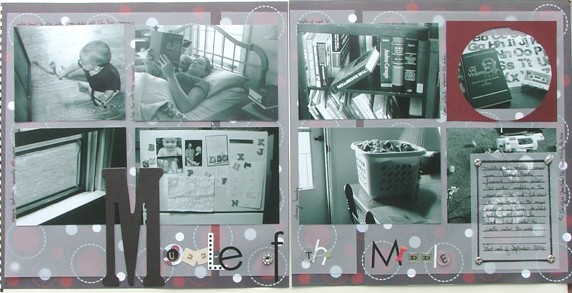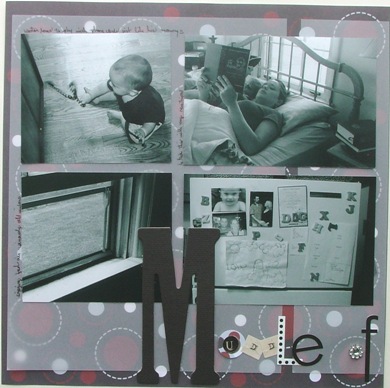 See More Free Scrapbooking Layouts....