Ideas for Scrapbook
3 more photos and ideas from my personal collection
Ideas for Scrapbook - Create one of these layouts from my collection in 5 minutes. I created layout #3 with a page kit from Hobby Lobby so it literally took me 5 minutes (now I just have to do the journaling).
More Layouts 1 2 3 4 5 6 7 8 9 10 11 12 13 14 15 16 17 18 19 20 21 22 23 24 25 26 27 28 29 30 31 32 33

Ideas for Scrapbook 1

I started with a piece of terra cotta textured paper. On top of that is the vertical strip of square patterned paper. In random squares toward the bottom I wrote the date and "Go Dawgs!" (the UGA football my son is holding in the middle photo). On top of that I laid the 3 photos with their edges touching. Right above the photos is a piece of orange fiber secured with eyelets on each side. The large P is a chipboard letter that I inked brown with my vintage sepia inkpad. Then the letters that spell out the rest of U M P K I N are rubber stamped with the same ink. I added some "loopy brads" from Karen Foster to the end of my 1st title block. The 2nd title block is a strip of the same turquoise paper and brown inked letters. The circle got punched out of the polka dot paper from layout # 3.
Ideas for Scrapbooking 2

Layout #2's background paper is the same as #1 and directly on top of that is the same turquoise paper for the horizontal strip. Then came a horizontal strip of navy blue paper and the 2 photos on either side of the large circle. The vertical strip is made up of two large squares. The squares were cut out of a 12x12 sheet made up of squares. I cut the large circle out of the top square with a piece of Tupperware from my cabinet. I laid the vellum behind it and journaled on it with one of my ZIG pens. The bottom square has the two photos of the pumpkins my son picked out at the pumpkin patch and two circles punched out at the bottom right.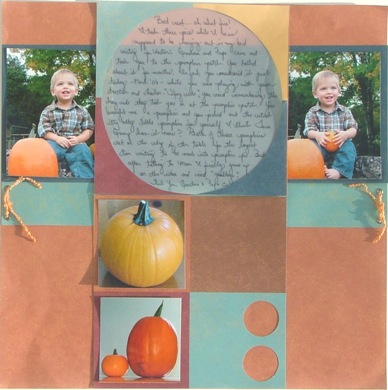 Ideas for Scrapbook 3

This is my 5 minute layout. I just pulled out one of my page kits from Hobby Lobby and went to work. I added some leather photos corners from Making Memories and an envelope for the hidden journaling. And because the layout only took 5 minutes, I can spend more time on some quality journaling. I love this one!