Free Scrapbook Templates
still more video reviews of scrapbook sketch sites
Free Scrapbook Templates – Part 3 in my 3 part series. Wow! If you're looking to overcome scrapper's block, these sketches will start your brain spinning with ideas. At least, that is what happens to me. I get excited about all the different possibilities and sometimes get overwhelmed and paralyzed. Does that ever happen to you? Well, one of the things I do is set my timer and just do 15 minutes. That helps on a couple of fronts. If I feel like I can't get started, I tell myself that I just have to work on it until the timer goes off and then I can stop. Or, if I get too excited and feel like working for hours (but I have other things I have to do) it "makes" me stop so I don't get too obsessed. I learned the timer technique from Flylady and it helps me stay balanced. I know that is a bit off topic from scrapbooking sketches but at least it tells you what I'm all about around here. : )

Free Scrapbook Templates 1 – NutsAboutSketches.blogspot.com
It looks like there is a 1 sketch per week and then 9 layout examples from 9 design team members. I love that – lots of different interpretations of the same sketch! One of the other things I love is that you can find links to sketches with anywhere from 1 to 15 photos. It is so helpful to have them categorized that way. There are also lots of 2 page layout sketches!
Free Scrapbook Templates 2 – GotSketch.blogspot.com
This is a very fun site too. I love that they offer the links to sketches with different size photos and sketches with different numbers of photos per page. Check the upper right column. Did I mention that many of the sketches have quite a few page layout examples? : ) I love to see lots of ideas. You can also take classes here.
Free Scrapbook Templates 3 – Floorplans from Scrapbook.com
Now this is like "sketches on steroids." What does that mean, right? Well, this book offers you sketches along with PRINTABLE page elements. Yes, that's right. You can create a page layout almost instantly with this book, your photos, your printer and maybe a couple extra embellishments. I don't have any special kind of printer...just very basic and I was very pleased with the way the e-cuts printed and have lasted. This layout is quite old now. Here's the layout I'm talking about: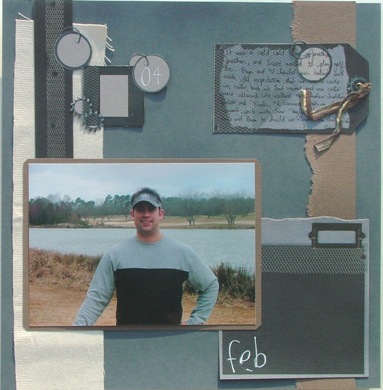 See what I mean? All the hard work is done for you. You can just get your photos onto pages and into your albums. Everything on this layout is from the e-cuts download except the strip of burlap fabric down most of the left site, the brown torn paper down the right side, the ribbon on the tag in the upper right corner and the "feb" rub-ons.
See more free scrapbook templates from time to time....