Baby Boy Scrapbook Pages
primary color, pastel and "grunge" layouts
Baby Boy Scrapbook Pages – I've used a watermark technique, rub-ons, crumpled tissue paper, ribbon, staples and hand journaling to create these 3 baby scrapbooking layout. It is fun to do both traditional and non-traditional stuff for baby pages. I think it depends on the photos themselves.

More baby boy scrapbook pages!

See an 8 x 8 mini album for baby boy


My philosophy about scrapbooking is "babysteps." I talk about it a lot and sometimes I get tired of hearing myself talk about it. But it is how I get layouts done around here. I often encourage myself and my YouTube subscribers to set the timer for 15 minutes to see what we can do. Flylady has helped me to learn to do things this way instead of thinking that I have to do it all at one time in a marathon. I've been working on blogging more as well. It comes in stages depending on my "season of life."


Baby Boy Scrapbook Pages 1
This is a fun primary color layout. I used my VersaMark watermark stamp pad. As I was working on this, I found that my sweet kids had "ruined" my stamp pad. Find out how to fix a stained stamp pad. Thank You, Lord!

I used plain red card stock for the background. This was one of my easy scrapbook pages. I used some of my circle stamps (one from Stampin Up) and my VersaMark stamp pad to create the tone on tone look. Next, I added some hand doodling around some of the circles with a regular pen. Finally, I added the hand journaling.
Don't think that you have to have something "perfect" to say. I love the "then and now" type of journaling." I usually do my layouts long after the pics are taken so I end up adding info about the pic, what was happening around the time the pic was taken and what is going on in our lives as I write the journaling. Sometimes I add a little note to whoever the pic is about as well. : )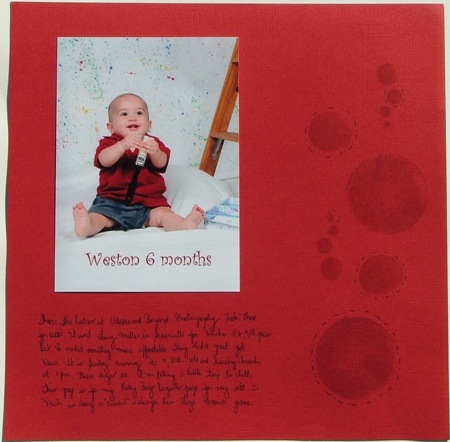 Baby Boy Scrapbook Pages 2
I love the non-traditional look of this layout. It is sort of "grungy" and edgy. This was also one of my easy scrapbook pages. The background paper is from Me & My Big Ideas (CP-31). Then I added the photo. I had a professional photographer take this 9 month photo and she edited it in Photoshop (I suppose) to get the smeary edge. I like the way that effect works with the "smeary" pattern on the ribbon. I attached the ribbon with staples. It is from American Crafts. The stamped title was done using stamps from Stampabilities Bottle Caps. Finally, I added the hand journaling and that was that. Thank You, Lord, for the time and inspiration. I so enjoy creating.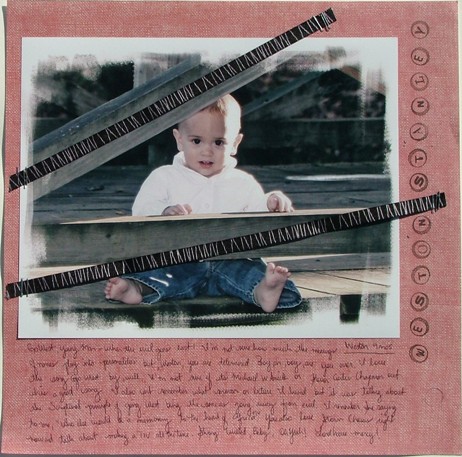 Baby Boy Scrapbook Pages 3
This one is more traditional baby style. It uses the soft blue pastels and white. I actually used a background paper from Colorbok Mixed Media paper pack (Romance Pack 36220) I also used the same papers and elements for my son's 8 x 8 mini baby scrapbook album.

I liked using the soft edges of crumpled tissue paper for this baby page. The tissue paper was tone on tone polka dot and had a bit of shimmer to it. I used acid free paper to mat the photo so it didn't touch the tissue paper. Finally I added the white rub-ons to form the title. They are from Making Memories (Heidi UC White).