Scrapbook Stamping
6 photos of how I use stamps on my layouts
Scrapbook Stamping – You can use rubber stamps for more than just card making. That is how I usually think about using them but I have used them on my 12 x 12 layouts before and I love the way they look. I especially like using them with watermark ink for a tone-on-tone look. Come see how to do it.


Scrapbook Stamping 1 – 6 Month Baby Boy Design

I used circle stamps from Stampin' Up and HamptonArts.com and my VersaMark Watermark stamp pad. I believe I got the stamp pad from Hobby Lobby and I was blessed to find at least one of my circles from a garage sale. Thank You, Lord! See the story of how I fixed my stained stamp pad! I love the soft effect that the watermark gives. You can have the shape of the stamp without adding another color. Whatever you stamp it on just turns a bit darker in the shape of whatever stamp you use. How cool is that?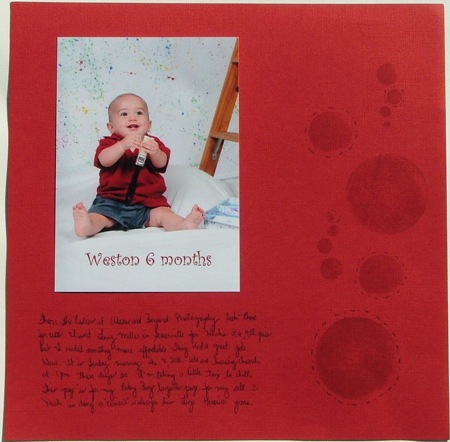 Scrapbook Stamping 2 – The Blogs I Read -

One day, I decided it would be cool to scrap some of the blogs I read at the time. It is cool to look back and see which ones I still read and which ones I don't. I used a file folder to hold some printed pages from the blogs and then I created a "bulletin board" on the front of the file folder and added header images from the blogs in random order. I used one of my flower stamps on this layout but only half of it shows. It is by Rubber Stampede Gerbera Daisy 2867H. I believe it also came from Hobby Lobby. I used to get stuff there all the time. I mostly stocked up on whatever their sale was for the week. At this point, I rarely buy scrap supplies. I'm trying to use what I have and not become a "scrapbook supply collector" : )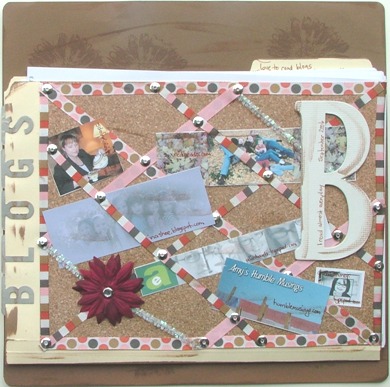 Scrapbook Stamping 3 – I Will Never -

This layout is all about something I said I would never do – bread baking. Now I'm doing gluten free baking but at the time, I was grinding wheat and making whole wheat bread and rolls. I grew up doing some of that and I did eventually come around to it as an adult. But as a teenager, I knew I would be "too cool" for that. Haha... Anyway, I used some paisley Technique Tuesday stamps ( Masterpieces of Paisley and Back Rounds – Large for the circles) with black ink, jewels and alphabet rub-ons. This is one of my favorite layouts in my collection! One of the things I love about these stamps is that they are clear and you place them on clear acrylic blocks. You can create groupings of them and see exactly where you are placing them on your page before you press down with your ink!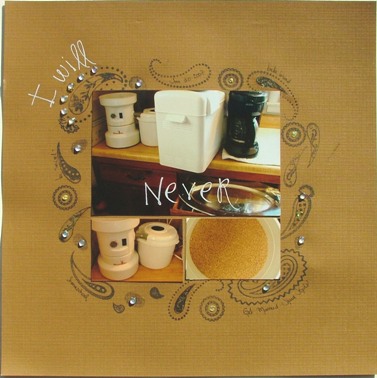 Scrapbook Stamping 4 – Little Sister Portrait Layout

My sweet little sister! This pic is quite old and she is older now but she is still my little sister. I love this photo of her. It was one of those great candid shots. I called her name and snapped the pic for a genuine smile. I love that! I also used a flower stamp for this page but it is a foam stamp on a clear background. Those are so nice because you can actually see where it is going on your layout. You can place it so much better. I can't find the stamp at the moment but I think it was from good old Hobby Lobby. It is such a great place to get a bargain on supplies. I stamped these flowers with my sepia brown ink pad.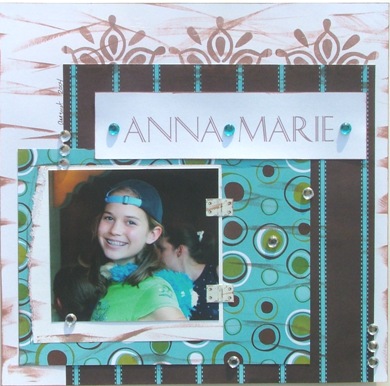 Scrapbook Stamping 5 – Together – a family group photo on steps

This is probably my number 1 pick out of all my scrapbook layouts. Maybe because it is so out of the ordinary for my style? I'm not sure, but every time I look at it, I like it more. I used the circles and watermark ink. I overlapped them and then used just the edge of the circle stamp to create the outlines. I then added the jewels – I love bling and sparkle. One thing that isn't on this page is journaling. I try to include lots of it but on this one I just wanted it to be very simple.
Scrapbook Stamping 6 – Game night layout

This is one of my Easy Scrapbook Pages It is always so nice to create simple scrapbook layouts. I used stamps to create some borders and add detail to this page. The photos are wallet size – I love using them – I just wish they weren't so expensive. Anyone know a cheap place to get that size?

I used my computer to print the title which is why the letters are so straight. But the swirly design is a stamp (Stampabilities – Swirly Border DR1012) and black ink.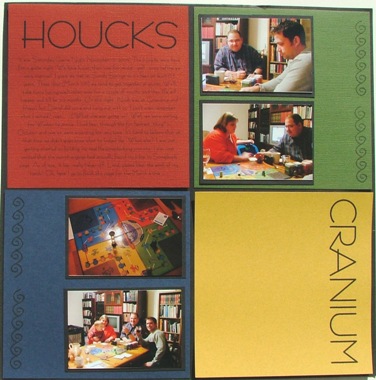 See more scrapbook stamping ideas from time to time...