If your email reader translated this issue into text (you can't see photos) click here and read back issue September 2011 to see the full version.


Hey, Ya'll,

It is getting darker earlier and I know Fall is coming. I've already sorted the boy's clothes and I just recently got my clothes out to try to put together some transitional outfits. That is always a challenge for me. Winter stuff is the easiest for me to put together. Summer is the hardest because nothing looks good when you're sweaty. Fall is hard because you never know. : )
Thankfully, I had some momentum from last month's ezine and I was able to create 2 layouts without too much trouble. Thank You, Lord! So, I'm getting this month's edition out on time. Yay!!!



What's Semi - New?


Digital Scrapbook Printing



Find out my Top 2 picks for printing your digital layout.

Learn how to save money on your digital layout prints.

Find out where to get local pickup for digital layout prints.


Wanna find something on my site? - I have a search box, yeah! SEARCH BOX


Ways to keep in touch - you can visit my site over at free-scrapbooking-ideas-and-videos.com or follow along with my weekly adventures over at the good old blog - rachelktaylor.com or subscribe to my YouTube channel - ThankYouLord


Also, let me know what you'd like to see included in upcoming issues. Send me a line at rachel@free-scrapbooking-ideas-and-videos.com. You might have to go through my contact page at the main site because that address has heavy spam filters on it...I might not get it if you just send it from your email program. : )


For Member's Only…


When you subscribe to The Real-Life Scrapbooker's Resource, you get access to all of the back issues. Every issue is filled with exclusive layouts and ideas. You won't find any of the layouts or card designs anywhere on free-scrapbooking-ideas-and-videos.com so it's a FREE Member's Only area. Every month you can count on fresh, free ideas for your scrapbooking! And here's another thought. Every month, put the new issue in a folder in your email software and when you sit down to scrapbook, you'll have tons of ideas right at your fingertips.


Subscribe to The Real-Life Scrapbooker's Resource


Marathon Field Trip Week


During testing week in the Spring, I decided to make it a "marathon" week and do some field trips. I'm usually about getting things "done" and working but I decided to have some fun and go a few places. They boys loved it, of course, and I was glad we did but I was worn out after that week.
This is a really simple layout as you can probably tell. I used a yellow polka dot paper from the Wanderlust Kit at Computerscrapbook.com for the background. I added the decorative paper clip in the top right corner and the green journal mat to finish out the "stair step" of the photos. Next came the swirly motif. I used a brush (otherwise known as a "stamp")from ObsidianDawn.com to create it. I love brushes in Photoshop Elements. I learned all about them from the TwoPeas class I keep talking about. : ) I love TwoPeasinabucket.com!

Supplies:

Background paper: Wanderlust kit from ComputerScrapbook.com
Green journal mat: element kit from OneFishTwoFish kit from ComputerScrapbook.com
Paperclip: element kit from TealTranquility kit from ComputerScrapbook.com
Swirly Brush: ObsidianDawn.com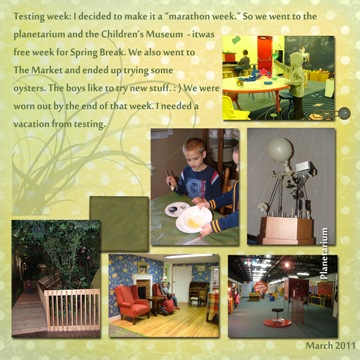 Yard Work


Oh My! I took this pic because I can never believe how dirty my feet get when I mow and trim the yard. I usually wear flip flops and, boy, do my feet look messy! I really like the digital scrapbook papers and digital elements from the Sophisticate Kit. They "softened" up the dusty feet pic.

Supplies:

Most of the supplies for this layout are from the Sophisticate kit from ComputerScrapbook.com The yellow mat behind the photo is from the Wanderlust kit.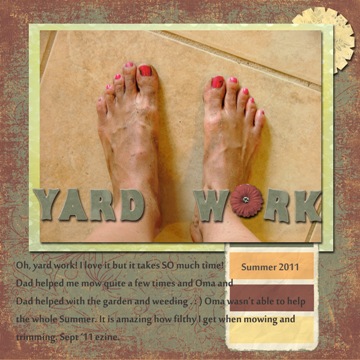 What about next month?

You just never know. We'll see...stay tuned to Youtube to find out.

Until sometime around the middle of October…


Send Me Your Layouts...


I'd love to see what you've been up to. I'll pick 2 or 3 for each issue and publish them along with your photo (if you want) and a bio about your real life scrapbooking adventures. So, send them to Rachel@free-scrapbooking-ideas-and-videos.com with "e-zine layout submission" in the subject line.





New!

CommentsHave your say about what you just read! Leave me a comment in the box below.