If your email reader translated this issue into text (you can't see photos) click here and read back issue July 2012 to see the full version.


Hey, Ya'll,

It is still yard work and lawn mowing season around here which takes up quite a bit of time but I'm very thankful that I've still been able to scrapbook quite a bit!


What's New?


Scrapbook Sketches

I have had the best time researching great places to find scrapbook sketches! So far, I have 2 new pages posted with 6 great websites for finding inspiration through sketches. In fact, that is how these layouts were inspired. I logged onto Pagemaps.com and found some fun "Sidemaps" sketches. So enjoy!


Scrapbook Sketches!

More Scrapbook Sketches!


Wanna find something on my site? - I have a search box, yeah! SEARCH BOX



Ways to keep in touch -

My website!

My Blog!

My YouTube Channel!

My Facebook Page!

Pinterest!


Also, let me know what you'd like to see included in upcoming issues. Send me a line at rachel@free-scrapbooking-ideas-and-videos.com. You might have to go through my contact page at the main site because that address has heavy spam filters on it...I might not get it if you just send it from your email program. : )


For Member's Only…


When you subscribe to The Real-Life Scrapbooker's Resource, you get access to all of the back issues. Every issue is filled with exclusive layouts and ideas. You won't find any of the layouts or card designs anywhere on free-scrapbooking-ideas-and-videos.com so it's a FREE Member's Only area. Every month you can count on fresh, free ideas for your scrapbooking! And here's another thought. Every month, put the new issue in a folder in your email software and when you sit down to scrapbook, you'll have tons of ideas right at your fingertips.


Subscribe to The Real-Life Scrapbooker's Resource


Chick-Fil-A Fun


This is a fun 8 1/2" x 11" scrapbook layout. A long time ago in my Creative Memories Days, I did work in 8 1/2" x 11" for a while and then I went to 12 x 12 and that is pretty much what I've stuck with for YEARS. And then I got inspired by Pagemaps.com's Sidemaps and I'm not sure what else. : ) But I've been lovin' it. Last month's layouts were in 8 1/2" x 11" and so are this month's. I think one of the reasons I am really liking it is because I can do 1 or 2 photo layouts and not have to embellish so much. I love lots of bling and embellishment but it also takes more time and more money to fill up a 12 x 12 page with scrapbook product. These layouts are done with almost no "product"...just paper scraps. How cool is that for FRUGAL SCRAPBOOKING! Plus I felt more free to "tell the story" and not feel like I had to put so much emotional energy into embellishments. : )

So anyways, I just used a plain white piece of 8 1/2" x 11" card stock and added the black strip down the right side. Then I used my little flower punch and added those little "cuties" on the left side. And I used the negative space from some square punch-outs on the black strip of card stock. My glue stick worked quite well to stick those little things on without warping the paper. I added the hand doodling around the photos and the journaling around the outer edge of the paper. I plan to journal a bit in paragraph style on the back. I am a wordy person so I feel the need to write more. : ) But I like the clean look of list style journaling on the front.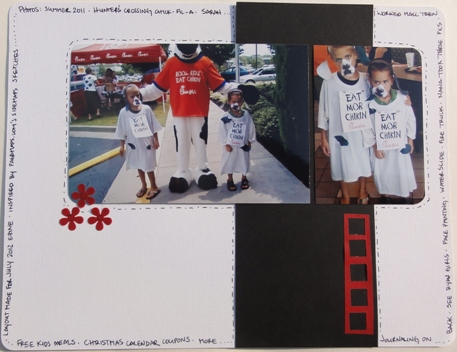 There really isn't a title for this one

Kind of like last month - one of my layouts didn't have a title. And that is ok! I still documented a LOT of story! I used the arrows (drawn with a Sharpie) to point to the things in the photo that I wanted to talk about. I have a hard time cropping pics because all the stuff in the background is part of the story (the story of our life). So, I usually don't crop my photographs 'cause I want to see all that stuff...even when it isn't "pretty" : ). I used my larger tip Sharpie 'cause at the time I couldn't find my fine tip one and then later I found it in my purse. No matter how much I organize, I just can't do it all. : )

So, for this layout I used cream colored card stock for the background. I used a the floral scrap from my scrap drawer and used my corner rounder on the right side of the patterned paper scrap. I also used the corner rounder on the 4 x 6 photo and the edges of the back ground card stock. I used my ink pad to ink around the edges of the back ground and the patterned paper. Then I added the 3 little stamps on the left. Finally, I did the hand journaling.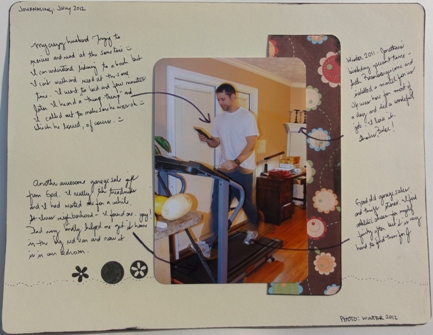 What about next month?

You just never know. We'll see...stay tuned to Youtube to find out.

Until sometime around the middle of August

Send Me Your Layouts...


I'd love to see what you've been up to. I'll pick 2 or 3 for each issue and publish them along with your photo (if you want) and a bio about your real life scrapbooking adventures. So, send them to Rachel@free-scrapbooking-ideas-and-videos.com with "e-zine layout submission" in the subject line.