If your email reader translated this issue into text (you can't see photos) click here and read back issue April 2013 to see the full version.


Hey, Ya'll,

Well, I've mowed 2 times this year already...it's probably silly that I talk about yard work and mowing so much but I never cease to be amazed how much time it takes even though I enjoy it. It really wears me out!

Homeschooling is going fairly well. We continue to grow and learn and change our approach as we need to...but that's what life/school/learning are all about. We recently had our yearly testing week. That's a lot of coming and going but we always have fun with the change of pace. For the last 3 years we've made it "fun week" - so after testing is over we do a fun field trip or try something new. This year we got shrimp and swordfish, went to see Wreck-it Ralph and went rock climbing...that'll be a fun scrapbook page...

Hope you enjoy the scrapbook layouts this month!



What's New?

Help me with some "likes" - check out the pages below and click "like" on the top right if you think I did a good job! : )


Scrapbook Punches - Find 2 videos with my own scrapbook layouts using punches and links to my Pinterest board of punches used for scrapbook pages



Scrapbooking Advice - All about me and my advice for scrapbooking from someone who burned out and is back at it


Discount Scrapbook Paper - I'll show you where to get discounted scrapbooking paper and supplies



Wanna find something on my site? - I have a search box, yeah! SEARCH BOX



Ways to keep in touch -

My website!

My Blog!

My YouTube Channel!

My Facebook Page!

Pinterest!


Also, let me know what you'd like to see included in upcoming issues. Send me a line at rachel@free-scrapbooking-ideas-and-videos.com. You might have to go through my contact page at the main site because that address has heavy spam filters on it...I might not get it if you just send it from your email program. : )


For Member's Only…


When you subscribe to The Real-Life Scrapbooker's Resource, you get access to all of the back issues. Every issue is filled with exclusive layouts and ideas. You won't find any of the layouts or card designs anywhere* on free-scrapbooking-ideas-and-videos.com so it's a FREE Member's Only area. Every month you can count on fresh, free ideas for your scrapbooking! And here's another thought. Every month, put the new issue in a folder in your email software and when you sit down to scrapbook, you'll have tons of ideas right at your fingertips.

* Disclaimer: I don't put links to any of the layouts or cards from my e-zine issues but search engines do find them...including my own on this site. I've decided to keep it this way 'cause it helps my traffic. How's that for a "real-life" disclaimer for you? : ) There's also 1 set of my YouTube videos where I show a good bit of a paperbag scrapbook that I featured in an e-zine edition. I do the very best I can to give you fresh content each month. Thanks!


Subscribe to The Real-Life Scrapbooker's Resource


SCD Freaks YouTube Channel

My sweet kiddos (mostly the oldest) have a YouTube channel all about recipes from the oldest's medical diet...it's called the SCD diet and it is for digestive issues. It is a big part of our lives and Noah is always asking to cook something or try a new recipe or do a video for his channel. They love when I scrapbook about them and their stuff so I did. : ) I journaled about how we started doing the diet, who told us about it and the channel...

I used a distressed graph paper look for the 12 x 12 back ground. Then, I used black card stock to make the strip going down the right side. Next, I placed the 2 4x6 photos and then added the cluster of circle stamps and the foam stamp title in black. Finally, I added the hand journaling...it spilled over onto the back 'cause I had so much to say. I attached a separate sheet to the back to write on so the fine point Sharpie I was using wouldn't bleed through to the front of the layout.



Supplies:

Background Paper: From the paper pack called Mosaic Memories by Recollections - a Michael's house brand (I think)

Title: foam stamps and some wood block stamps...not sure the maker

Embellishment: circle "cluster" stamp from Hamptonarts.com DF2196 4 Circles...Copyright 2002 so I'm not sure if it's available any more...I think it came from one of the big box craft stores?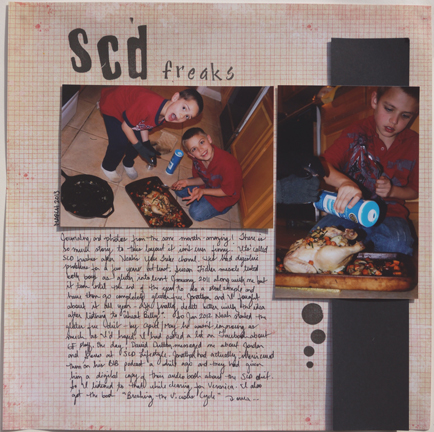 Tomb Attraction

This layout is from a fun field trip we did last Fall. It was free for home schoolers...wish my husband could have gone too but we had fun with just us (the boys and me). I'm really bad at keeping all the ephemera to go with my photos...think it's the Flylade declutter "thing" - seriously, I eventually start to drowned in it...so I just keep some stuff. I don't have a particular system. Maybe someday I'll get that organized...I'm getting there but I still can't keep everything...it's impossible...as I'm always telling the boys.

I used 2 papers from the paper pack by DCWV - Die Cuts with a View called The Timeless Type Stack - also from Michael's with a coupon...that's what I talked about on this page! The paper paper pack is the one I'm planning to use for this album.


Supplies:

Background paper: from the paper pack The Timeless Type Stack by DCWV

Vintage key pattern paper: same paper pack as above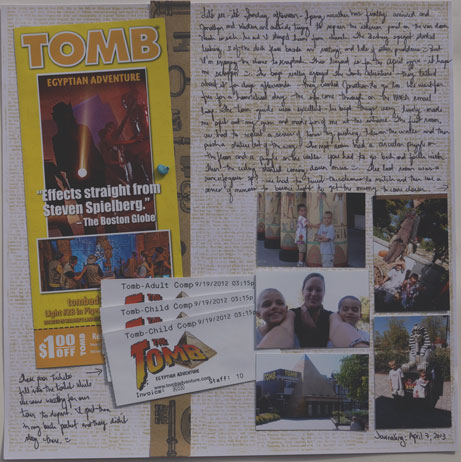 What about next month?

You just never know. We'll see...stay tuned to Youtube to find out.

Until sometime around the middle of May

Send Me Your Layouts...


I'd love to see what you've been up to. I'll pick 2 or 3 for each issue and publish them along with your photo (if you want) and a bio about your real life scrapbooking adventures. So, send them to Rachel@free-scrapbooking-ideas-and-videos.com with "e-zine layout submission" in the subject line.