If your email reader translated this issue into text (you can't see photos) click here and read back issue September 2012 to see the full version.


Hey, Ya'll,

Gardening season is coming to a close...my tomatoes have given out and most everything else has as well...I have harvested kiwi and some figs and the mowing is still going strong. But I'm thankful I've been able to fit some scrapbook time in. : )



What's New?


Scrapbook Mini Album in a Box/Book all about the trip to my Grandmother's house


I've been working on a mini scrapbook album all about the most recent trip we took to my Grandmother's house. She passed away earlier this year and my entire extended family was able to all go for one last visit to her house. We "re-lived" all our memories from trips there when we were growing up. We did many of the things we used to do and took LOTS of photos! I wanted to be able to scrapbook a lot of photos pretty quickly and not spend hours embellishing every layout. I love to embellish but there is only so much time in the day. : ) So, I took a trip to Michaels and came away (after wandering around the store for and hour and a half) with a paper mache box that looks like a book. I created mini scrapbook layouts/cards from patterned paper and then attached collage prints to each one. There is room for journaling on the back and I'll get to have fun embellishing the box...


Scrapbooking Rolodex Mini Album Blog Series I'm still working on it but I've fallen off the wagon quite a bit...I haven't given up, though, so if you enjoy seeing photos of all the different cards on my rolodex album... stay tuned....



And in case you missed it last month...


How To Create Ric-Rac with Paper and Wavy Edge Scissors



Wanna find something on my site? - I have a search box, yeah! SEARCH BOX



Ways to keep in touch -

My website!

My Blog!

My YouTube Channel!

My Facebook Page!

Pinterest!


Also, let me know what you'd like to see included in upcoming issues. Send me a line at rachel@free-scrapbooking-ideas-and-videos.com. You might have to go through my contact page at the main site because that address has heavy spam filters on it...I might not get it if you just send it from your email program. : )


For Member's Only…


When you subscribe to The Real-Life Scrapbooker's Resource, you get access to all of the back issues. Every issue is filled with exclusive layouts and ideas. You won't find any of the layouts or card designs anywhere on free-scrapbooking-ideas-and-videos.com so it's a FREE Member's Only area. Every month you can count on fresh, free ideas for your scrapbooking! And here's another thought. Every month, put the new issue in a folder in your email software and when you sit down to scrapbook, you'll have tons of ideas right at your fingertips.


Subscribe to The Real-Life Scrapbooker's Resource


Then and Now Grocery Fliers

This is the layout I was talking about...the one that combines so many different memories into 1 layout. I used a plain piece of white card stock for the back ground. Next, I added the brown and tan polka dot patterned paper. The 4 x 6 photos came next. I attached the red ribbon with staples along the bottom of the photos. My final touches were the "days gone by" sticker and the date stamps...oh yeah...and the hand journaling.

Supplies: Patterned paper from the Mosaic Memories paper pad by Recollections. I got it at Michaels recently.

Stamps: I'm not sure about the large numbers but the small ones are from a wooden stamp set by PennyBlackInc.com. They are called "Kate Text". I'm not sure where I got them...they've been in my stash for a LONG time. : )






My "Old" and "New" Scrapbook Space

This 2 page layout is also on white card stock...less is more sometimes...I've been doing quite a bit of that lately...plain card stock back grounds. I used an oval shaped tray to trace out the oval shape on each side of the layout...it is a dot/dash pattern...my favorite...so easy...I use it all the time. I used 3 - 4 x 6 photos and added patterned paper strips to fill in the other part of the grid where another photo could have gone. I used black letter stickers for the title and number stickers on each of the photos. The dotted circle pattern around each of the numbers is a stamp by Technique Tuesday. All of the patterned papers are from the same paper pack...Mosaic Memories by Recollections...it came from Michaels. The flower outline stamp on the bottom right corner under the "New" title is from Stampin' Up and the other circle stamps in the 2 title areas are from Technique Tuesday.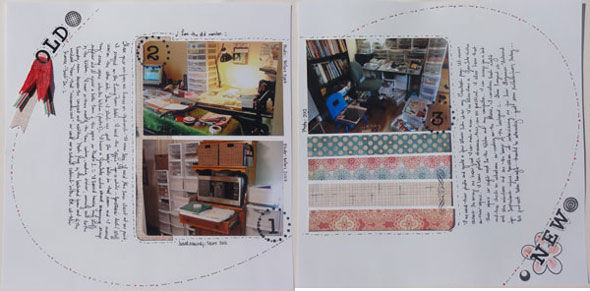 Thanks Scrapbook Card


I've talked before about making things "in sequence". What I mean by that is using momentum from projects I've been working on to get some cards made. This is what happened here. It started with using these patterned papers from the Recollections pack for the mini album about the trip to my Grandmother's house. Then I used the same paper (scraps from that album) on each of the layouts. Finally, I used the papers on these card designs...nothing like rolling with the momentum. : )

I used one of the patterned papers for the back ground...it sort of looks like graph paper. I inked around the edges with black and then added the flourish corner stamp...it is from a set of cling stamps that I got from Michaels as well...I believe they were the Recollections brand...somehow I misplaced the packaging. The "Thanks" is stamped with an alphabet set by PennyBlackInc.com "Kate Text". I'm not sure where the little silver dots came from...I've had them in my stash forever.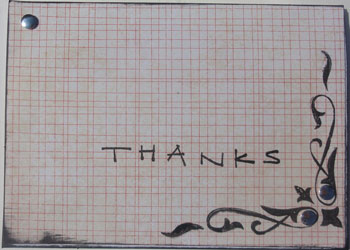 It's Your Day Scrapbook Card

This teal polka dot patterned paper came from the same paper pack I used for all these projects. The "It's Your Day!" stamp came from wordsworthstamps.com. I didn't get it from there but that is printed on the side of the stamp. I love this one...I use it all the time. The little flourish stamp above it is from the same cling set as the "Thanks" card above.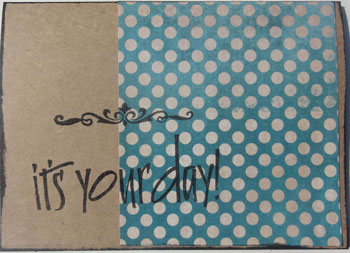 What about next month?

You just never know. We'll see...stay tuned to Youtube to find out.

Until sometime around the middle of October

Send Me Your Layouts...


I'd love to see what you've been up to. I'll pick 2 or 3 for each issue and publish them along with your photo (if you want) and a bio about your real life scrapbooking adventures. So, send them to Rachel@free-scrapbooking-ideas-and-videos.com with "e-zine layout submission" in the subject line.