click here and read back issue October 2013 to see the full version.


Hey, Ya'll,

Well...last month I did not get an e-zine published. I started this website knowing I wouldn't be able to keep up a super rigorous schedule and sometimes not even an "easy" schedule. My main focus in life is my family, home schooling, nutrition and keeping up my house...whew...that's a full time job right there. But...I do want to scrapbook and encourage you to scrapbook and I want to build a website/YouTube channel too. So, I do the best I can and that's what makes this site/channel/e-zine what it is...not being perfectionistic. You can do the same with your scrapbooking and life goals! You go, Girl! : )

Hope you enjoy the scrapbook layouts this month!



What's New?


Scrapbook Ideas: Update #6 Project Life Inspired Album (VIDEO)
I've done a couple "marathon" sessions...meaning that I didn't just do 15 minutes...I worked longer. But I've also done other baby steps to keep me motivated like listening to The Paperclipping Roundtable scrapbook podcast. I've also had plenty of days were I was completely unmotivated or just procrastinating out of fear of not getting it "perfect"...ever do that to yourself? : )


Monthly Scrapbook Kits (WEBSITE PAGE)
I had SO much fun researching and working on this page! I'd love some "likes" - click through the link and click "like" in the upper right corner of the page. There are so many beautiful kits and so little time...lol. I talk about how to choose a kit club, pros and cons and give you links to specific clubs...too many to choose from and all beautiful!



Wanna find something on my site? - I have a search box, yeah! SEARCH BOX



Ways to keep in touch -

My website!

My Blog!

My YouTube Channel!

My Facebook Page!

Pinterest!


Also, let me know what you'd like to see included in upcoming issues. Send me a line at rachel@free-scrapbooking-ideas-and-videos.com. You might have to go through my contact page at the main site because that address has heavy spam filters on it...I might not get it if you just send it from your email program. : )


For Member's Only…


When you subscribe to The Real-Life Scrapbooker's Resource, you get access to all of the back issues. Every issue is filled with exclusive layouts and ideas. You won't find any of the layouts or card designs anywhere* on free-scrapbooking-ideas-and-videos.com so it's a FREE Member's Only area. Every month you can count on fresh, free ideas for your scrapbooking! And here's another thought. Every month, put the new issue in a folder in your email software and when you sit down to scrapbook, you'll have tons of ideas right at your fingertips.

* Disclaimer: I don't put links to any of the layouts or cards from my e-zine issues but search engines do find them...including my own on this site. I've decided to keep it this way 'cause it helps my traffic. How's that for a "real-life" disclaimer for you? : ) There's also 1 set of my YouTube videos where I show a good bit of a paperbag scrapbook that I featured in an e-zine edition. I do the very best I can to give you fresh content each month. Thanks!


Subscribe to The Real-Life Scrapbooker's Resource


Lucy's Birthday

This page was a very easy 2 page scrapbook layout. It is just card stock, staples and washi tape. It is about a weekend birthday party at a local indoor water park. I actually managed to keep some of the brochures/info about the place we stayed and found it when I got the photos developed. I am decently organized with my scrapbook photos and memorabilia but I need to work on it.

So, for this 2 page scrapbook layout, I used gold card stock for the back ground on the left side and green card stock on the right side. I guess it is actually patterned paper but it looks like card stock. It is from a paper pack I got at Michael's called The Old World Stack by DCWV (Die Cuts With a View).

On the left side I created a large pocket with a smaller piece of the green paper by stapling it along the left and right sides and leaving the bottom open. I put the brochures and some extra photos (that wouldn't fit) in there. The brochures created a bit of a title for me and I created a subtitle with little yellow letter stickers from Making Memories. The black and white polka dot pieces are the washi tape.

For the right side, I used green card stock as the back ground, laid out the photos and then used the gold card stock for journaling and put a strip of it under the bottom 2 photos. Finally, I added the journaling and it spilled over onto the back of the right side of the layout...just kept writing...I do that a lot...there's just not enough room on a little journaling card. : )

Supplies:

Background paper: The Old World Stack paper pack by DCWV

Washi tape: Recollection at Michaels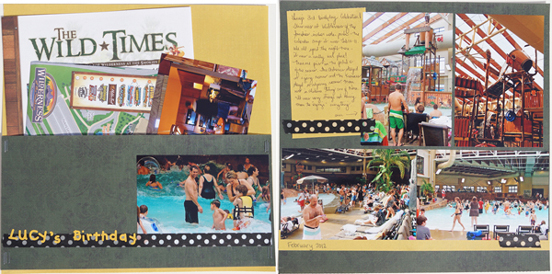 Church Scrapbook Layout

These photos from 2007 are of the church we used to attend. I found them while trying to decide what to scrapbook this month. Then, as I was doing the journaling, I realized I had a file folder with an older photo(from the early days of the church)but I had already finished the layout. It is an old photo taken with my first digital camera...so the quality isn't that good. I attached it to the back of the layout where I also had a lot of journaling that wouldn't fit on the front. I also thought of other things that I could include...but the layout was already finished. : ( So...I guess I have some other layouts to work on.

I used the black tone-on-tone feather paper for the back ground on both sides of this 2 page layout.

Left side: The main horizontal gold strip is a ledger paper and then I've put a small tone-on-tone floral strip under at the bottom and a smaller one underneath on the top left. The title is done with black letter stickers. The black and white strips are washi tape. The black and white striped, vertical-striped strip on the right side is also washi tape from the same pack. I also used a circle stencil and did a "dot-dash" doodle in the upper left.

Right side: The main vertical strip is a tone-on-tone floral. It is the bottom layer. Then I added a ledger paper to form the large horizontal gold strip. I used the black and white polka dot and striped washi tape to accent. I also used the black triangle piece from the paper pack I'm using for my 2013 PL inspired album.


Supplies:

Background paper: from the paper pack called Mosaic Memories by Recollections

Accent papers: from the same pack and from Cloud 9 Designs Specialty paper pack Embellishments: washi tape by Recollections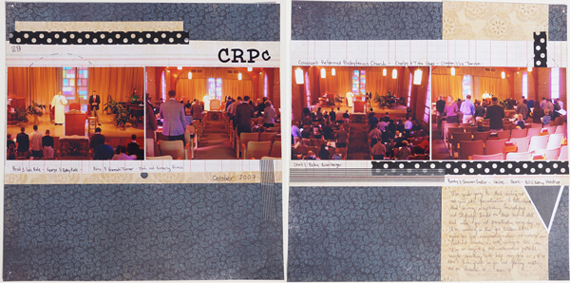 The pics below are of the back of this 2 page layout. I continued my journaling on the back...ran out of room and I also included a photo I found after the layout was finished(at least it is there in the same place with the other ones)and one that just didn't fit or go with the style of the front of the layout.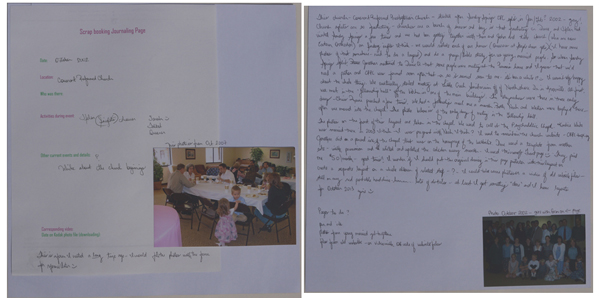 What about next month?

You just never know. We'll see...stay tuned to Youtube to find out.

Until sometime around the middle of November

Send Me Your Layouts...


I'd love to see what you've been up to. I'll pick 2 or 3 for each issue and publish them along with your photo (if you want) and a bio about your real life scrapbooking adventures. So, send them to Rachel@free-scrapbooking-ideas-and-videos.com with "e-zine layout submission" in the subject line.