If your email reader translated this issue into text (you can't see photos) click here and read back issue November 2012 to see the full version.


Hey, Ya'll,

Ahhh...yeah...so last month I completely dropped the ball and didn't get an e-zine put together. I am a 1 woman show and I just can't do everything. I've been doing LOTS of painting and decluttering around here and it has been taking up all my spare time which is usually what I use for scrapbooking.



What's New?


How to Plan a Large Family Photo for Holiday Cards



Wanna find something on my site? - I have a search box, yeah! SEARCH BOX



Ways to keep in touch -

My website!

My Blog!

My YouTube Channel!

My Facebook Page!

Pinterest!


Also, let me know what you'd like to see included in upcoming issues. Send me a line at rachel@free-scrapbooking-ideas-and-videos.com. You might have to go through my contact page at the main site because that address has heavy spam filters on it...I might not get it if you just send it from your email program. : )


For Member's Only…


When you subscribe to The Real-Life Scrapbooker's Resource, you get access to all of the back issues. Every issue is filled with exclusive layouts and ideas. You won't find any of the layouts or card designs anywhere on free-scrapbooking-ideas-and-videos.com so it's a FREE Member's Only area. Every month you can count on fresh, free ideas for your scrapbooking! And here's another thought. Every month, put the new issue in a folder in your email software and when you sit down to scrapbook, you'll have tons of ideas right at your fingertips.


Subscribe to The Real-Life Scrapbooker's Resource


Sauerkraut Making

Well, I asked for votes in one of my recent YouTube videos and I got a vote for a layout about sauerkraut making. So, here we go...I grew up eating kraut that my Grandparents made. They are from Germany/Latvia so they've made it for years. I became more interested in it in the last year for health reasons...you know, all those good probiotics...so I got out my Nourishing Traditions book and gave it a try. I've made 3 different batches in the last year and talked with my Grandmother about it a lot and the journaling for this layout talks a lot about all these things. I wish I had a good photo of my Grandparents making it old style with their shredder and stone crocs...I used my food processor and glass jars which worked just fine but it would have been cool to have the 2 photos side by side...but I just did the best I could. At least I have the story recorded. : )

Supplies:

The paper is from a paper pack I got at Michaels called Mosaic Memories by Recollections.

I used foam alphabet stamps for the title and the flourish stamp is a clear cling stamp from a sheet I got at Michaels (also the Recollections brand I thing?)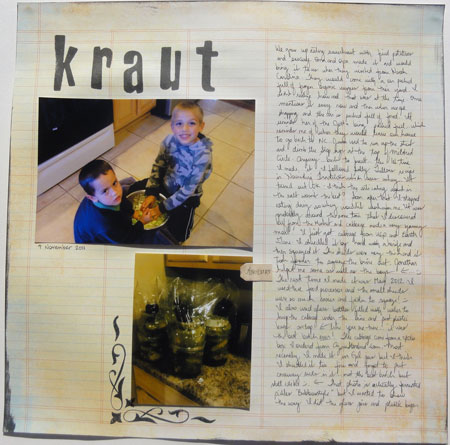 The Lorax

And then there's The Lorax...another memory from the same Grandmother...we grew up listening to her read The Lorax to us. I've read it to my kids many times and I've always enjoyed it. So, when the movie came out this last Spring, the boys and I went to see it together. This layout is about all those different memories. It turned out a bit different than I originally thought...but that is pretty normal for me. I was thrilled to finally used the bright foam flowers that I've had in my stash for AGES...just the "perfect" use for them. : ) I'm planning to journal on the back...there just wasn't a "pretty" place to put it on the front. This was a simple layout to do...paper, foam flowers, photos, ticket stubs and glitter glue....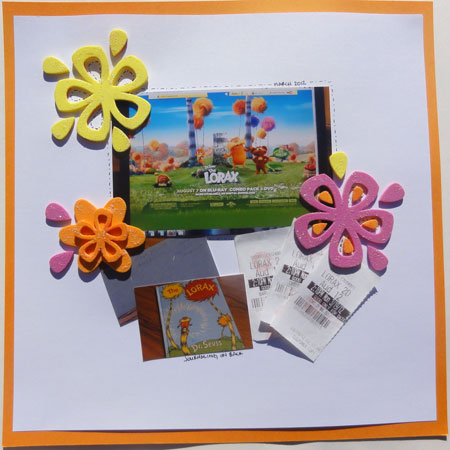 What about next month?

You just never know. We'll see...stay tuned to Youtube to find out.

Until sometime around the middle of December

Send Me Your Layouts...


I'd love to see what you've been up to. I'll pick 2 or 3 for each issue and publish them along with your photo (if you want) and a bio about your real life scrapbooking adventures. So, send them to Rachel@free-scrapbooking-ideas-and-videos.com with "e-zine layout submission" in the subject line.