If your email reader translated this issue into text (you can't see photos) click here and read back issue May 2013 to see the full version.


Hey, Ya'll,

Well, I won't bore ya'll with too much blabbing : )...I doubt anyone reads the intro anyways....

I have been doing yard work but so far this year it feels more manageable, Of course, the major growing season hasn't hit yet and it hasn't become quite as monotonous as it will later in the Summer. : )

Homeschooling is going fairly well...some days it is super challenging. I know whatever schooling situation you find yourself in can be challenging some days, right? We've been working on IXL.com and Switched on Schoolhouse a lot as well as reading lots of books and writing. This Summer, I'm planning to work a lot with both of the boys on Math U See (Gamma and Delta) and see how far we can get.

Hope you enjoy the scrapbook layouts this month!



What's New?

YouTube Videos


Journaling Encouragement


How to Use a Paper Crimper


You Can Get Projects Done 15 Minutes at a Time!



Wanna find something on my site? - I have a search box, yeah! SEARCH BOX



Ways to keep in touch -

My website!

My Blog!

My YouTube Channel!

My Facebook Page!

Pinterest!


Also, let me know what you'd like to see included in upcoming issues. Send me a line at rachel@free-scrapbooking-ideas-and-videos.com. You might have to go through my contact page at the main site because that address has heavy spam filters on it...I might not get it if you just send it from your email program. : )


For Member's Only…


When you subscribe to The Real-Life Scrapbooker's Resource, you get access to all of the back issues. Every issue is filled with exclusive layouts and ideas. You won't find any of the layouts or card designs anywhere* on free-scrapbooking-ideas-and-videos.com so it's a FREE Member's Only area. Every month you can count on fresh, free ideas for your scrapbooking! And here's another thought. Every month, put the new issue in a folder in your email software and when you sit down to scrapbook, you'll have tons of ideas right at your fingertips.

* Disclaimer: I don't put links to any of the layouts or cards from my e-zine issues but search engines do find them...including my own on this site. I've decided to keep it this way 'cause it helps my traffic. How's that for a "real-life" disclaimer for you? : ) There's also 1 set of my YouTube videos where I show a good bit of a paperbag scrapbook that I featured in an e-zine edition. I do the very best I can to give you fresh content each month. Thanks!


Subscribe to The Real-Life Scrapbooker's Resource


Our Gluten Free Journey

Wow! It has been a journey, that's for sure. It's a long story, but I'll just say my husband and I "fought" over it for almost a year before getting the boys tested and actually going gluten free. I had been gluten free for a year and had been making gluten free stuff for everyone. I was also trying to get my husband to not give it to the boys. After we finally got both of them tested and they were positive, he backed me up but it was still a journey. : ) They/we are going much better now - our health and our relationships. Yay...but it is still challenging!

So, for the layout, I used labeling strips and created words like "panic" "fighting" "stress" "adjustment" "learning" and "confusion" - cause that pretty much describes it all. I didn't want to create a whole album or mini book but I wanted to include quite a bit of journaling and recipes that I've tried over the last 2 years and whatever other "bits" will fit. So, I used 2 regular file folders and created this 2 page layout.

I used dark green card stock for the background of both pages and then added the file folders (after I used my black stamp pad to ink around the edges). Then, I used the polaroid cut-outs from the same paper pack I used to create our 12th Anniversary Album. It is a really cool paper pack 'cause it comes with sheets of coordinating bits/embellishments you can cut out and use with your projects. I used a Dymo labeler in red to create my own word art on the Polaroid cut-outs. The paper pack also had some triangles to cut out - wouldn't have thought of a triangle banner without those cut-outs. I love the way it ties the 2 pages together. I did the title with black letter stickers and halfway through, I realized some of the letters wouldn't come off the sticker sheet...so I just made some "letter stickers" with the same red label "tape" - awesome!

Supplies:

Background Paper: 12x12 green card stock

Title: black letter stickers - not sure what they are...they've been in my stash forever

Embellishment: cut-outs from The Timeless Type Stack paper pack by DCWV (Die Cuts with a View)


See more 2 Page Scrapbook Layouts!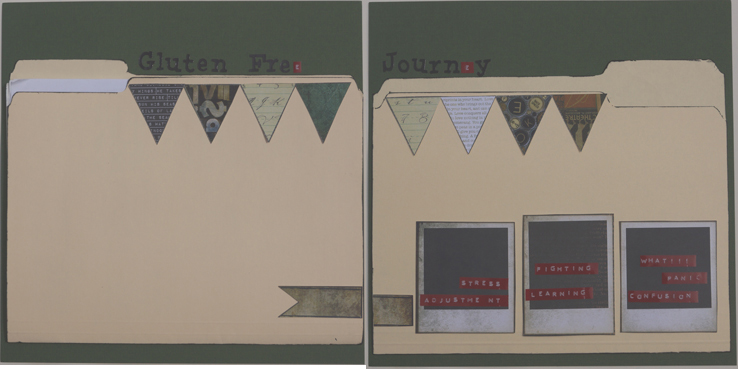 Every Day Real Life Scrapbooking

So...the other day, I was looking at my desk and trying to decide what to scrapbook. Some of my favorite layouts/photos are the every day stuff and tidbits that get forgotten in the big picture...like "to do" lists and/or any kind of list. I love making lists! So, I put one on a scrapbook layout. It was a large sheet of paper so I didn't have any room on the 12x12 layout to journal. I used one of my favorite techniques...pockets! I use them all the time. So, for this layout, I used the to-do list to create the pocket. I stapled along the top edge and the bottom edge and then slid the journaling into it. For the date/focal point/title I used one of the smash-book-style journaling cards from the Michael's off-brand called Recollections. It is in the top right corner...I just circled the correct parts to create the correct date for my layout. Finally, I added the circles (made with my circle punch) and inked all the edges of everything with black...another one of my "go-to" scrapbook techniques...need to learn something new! : )




Supplies:

Background paper: Mosaic Memories paper pack from Recollections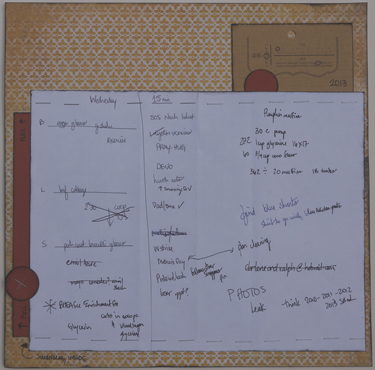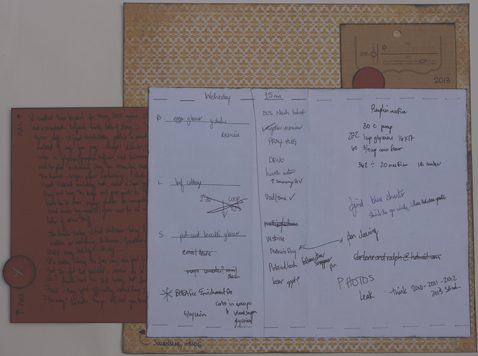 What about next month?

You just never know. We'll see...stay tuned to Youtube to find out.

Until sometime around the middle of June

Send Me Your Layouts...


I'd love to see what you've been up to. I'll pick 2 or 3 for each issue and publish them along with your photo (if you want) and a bio about your real life scrapbooking adventures. So, send them to Rachel@free-scrapbooking-ideas-and-videos.com with "e-zine layout submission" in the subject line.