If your email reader translated this issue into text (you can't see photos) click here and read back issue March 2011 to see the full version.


Hey, Ya'll,

Spring is springing here and I'm looking forward to gardening but I'm hoping I don't get behind on the scrapbooking. Last year, when Spring rolled around, it took most of my spare time...hope that doesn't happen again, though, I do love working in the yard. : )

Gluten-free-world is also going well. I've been slowly working on some recipes. So far, I have a good bread recipe, pancake and waffle recipe, a couple of dessert recipes and tonight we fried some onion rings with a gluten free breading mix.

If you follow my Youtube Channel, you know I've been working on an engagement scrapbook mini paper bag album. It has been fun and something I've had in a drawer-to-finish for years. You can see the videos on Youtube or read along and see the photos below.




What's New?


I've added a new header! Yeah! I've been wanting to do this for a long time but I finally was able to find time and energy. Thanks to ObsidianDawn.com for allowing me to use their brushes!


I also have a SEARCH BOX now on my site - another thing I've been wanting to do for a long time. So, if you need to find something...it'll be much easier now. Head on over and check it out.




See the new header and SEARCH BOX!




Ways to keep in touch - you can visit my site over at free-scrapbooking-ideas-and-videos.com or follow along with my weekly adventures over at the good old blog - racheltaylor.wordpress.com or subscribe to my YouTube channel - ThankYouLord


Also, let me know what you'd like to see included in upcoming issues. Send me a line at rachel@free-scrapbooking-ideas-and-videos.com. You might have to go through my contact page at the main site because that address has heavy spam filters on it...I might not get it if you just send it from your email program. : )


For Member's Only…


When you subscribe to The Real-Life Scrapbooker's Resource, you get access to all of the back issues. Every issue is filled with exclusive layouts and ideas. You won't find any of the layouts or card designs anywhere on free-scrapbooking-ideas-and-videos.com so it's a FREE Member's Only area. Every month you can count on fresh, free ideas for your scrapbooking! And here's another thought. Every month, put the new issue in a folder in your email software and when you sit down to scrapbook, you'll have tons of ideas right at your fingertips.


Subscribe to The Real-Life Scrapbooker's Resource


Engagement Paper Bag Scrapbook Album -


This style of paper bag book is very easy to make. You just lay the bags on top of each other and then punch holes along the left edge. You can then tie it together with ribbons. I used the Daisy D's Attic Heirlooms paper pack and then added my own ribbons, vellum, chipboard, staples, stamps and glitter glue.
Swirly stamp: All Night Media - Swirl Border 322G
Heart stamp: Stampabilities - Double Heart C1071
Journaling block stamp: Stampabilities - Journaling Block OR1025


Cover

For the cover, I used my decal edge scissors on the right edge of the paper bag. The bottom layer of paper is from the paper pack - I tore the top edge for texture and then I stapled a piece of vellum on top of that. I used a chipboard letter and covered it with another pattern paper. I placed corner stickers around the chipboard and then used the swirly stamp and heart stamp to embellish a bit more. Finally, I used my black pigment ink stamp pad along the edges of the entire cover. Oh yeah, and I used decal edge scissors to cut out the green pattern paper and then smeared glitter glue to highlight the "title area."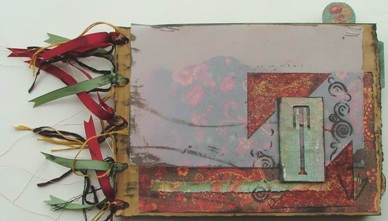 Page 1

On the left side of the spread I used one of the patterned papers from the pack for the bottom layer. Then I placed the photo at a bit of an angle. Next, I cut out a circle from a piece of vellum to highlight the photo. Then I attached the vellum with staples and finally inked along the left edge with part of the swirly stamp. Then I did the hand journaling. : )

On the right side I used one of the patterned papers from the pack and then matted the photo and placed it at an angle as well. I attached the photo to the mat with staples and then attached the mat with tape. I also inked around the edges before I placed it. Finally, I added the tab to the upper right corner of the page and the "laughter" sticker and the swirly stamp. The sticker and tab came with the paper pack. I also used the decal edge scissors for the right edge of this page.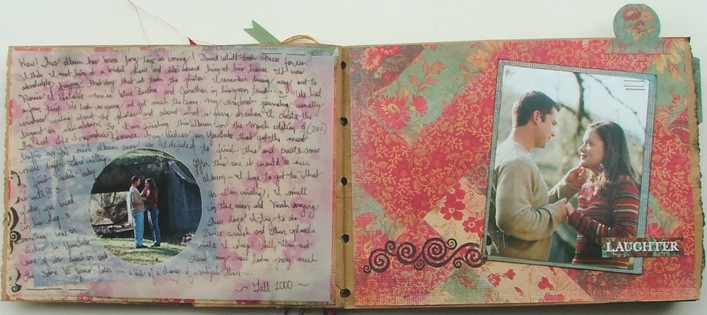 Page 2

I used very similar techniques from the last pages. The fun thing about this one was the little drawing from our courting days that I added to the right page. The other different thing is on the left page. I used 2 layers of paper for the bottom layer. I tore the bottom edge of the top one and then laid it on top just to give some interest.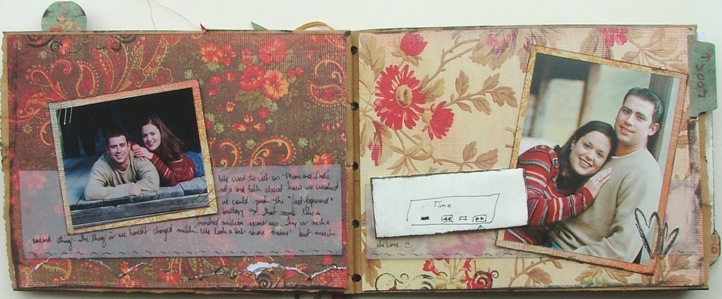 Page 3

I also used 2 layers for the bottom layer on the left page but this time I used 2 different patterned papers. I used letter stickers from the paper pack and then "connected" them with little dots.

On the right, I stapled the brown satin ribbon.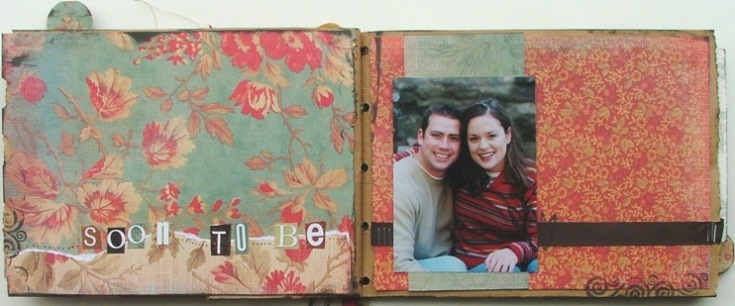 Page 4

These pages are very similar as well. On the left, I created the left edge with my circle punch. Then on the right is where I used the journaling block stamp. I obviously haven't journaled in it yet. I'm not sure when I'll get to that?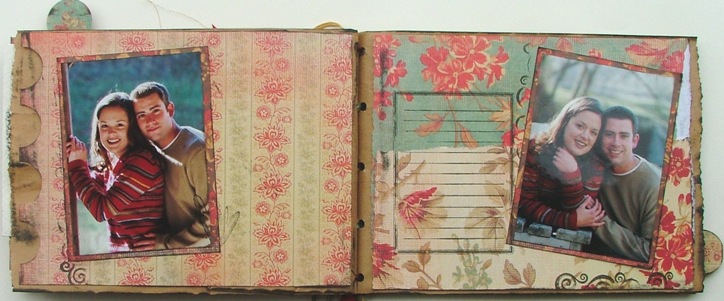 Page 5

Here you'll see similar techniques as well...so I won't bore you with more words. : )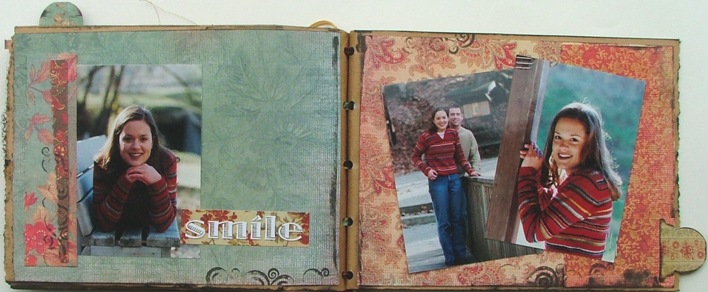 Page 6

Ahhh...the fun back cover. I reserved that for a blooper photo and labeled it "oops"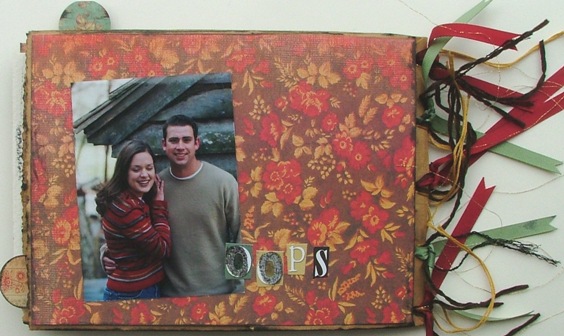 Here I just wanted to show you the fun pockets that the paper bag albums make. I used the pockets in this album for letters and such from our courting days. : )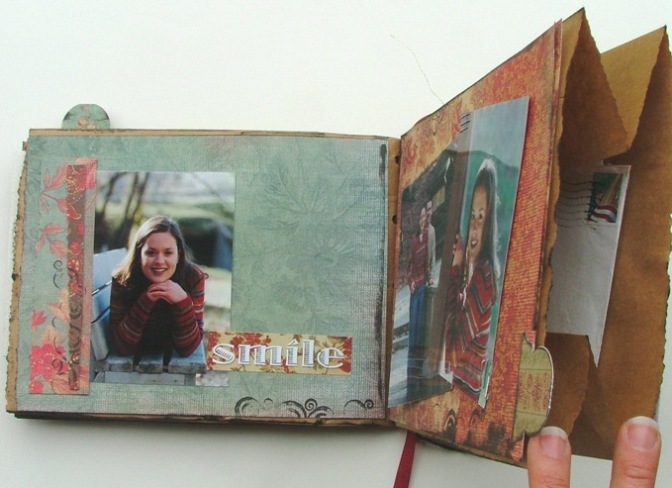 New Scrapbook Card Designs I made some cards this month!!! Yeah! I used my "making cards in series" strategy. What in the world does that mean? Well, it means that when I already have the creative juices flowing from a project, I try to go ahead and make some cards so I'll have them ready when I need them. Works for me!


Thanks!

I used one of the patterned paper from the Daisy D's Attic Heirlooms paper pack...the same one I used for the paper bag album. I stamped it with the journaling block stamp and the used letter stickers that came with the paper pack to spell out the word "Thanks!" For the bottom of the exclamation point, I used a heart shaped brad. For the finishing touch, I inked around the edges.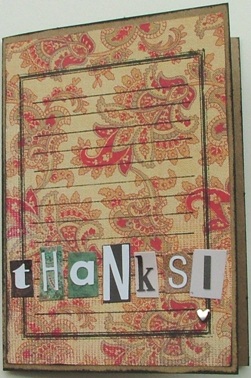 Our Hope is in the Lord

This was super simple...just a background paper and then a coordinating vertical paper strip, the stamped greeting and the vertical stamped swirl. Finally, I inked around the edges. The greeting stamp is Stampabilities HOPE ER1027.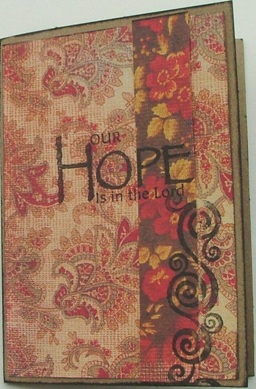 Our Hope is in the Lord

Another easy design! I used a pattern paper for the background and then used a stamp to created the 3 black rectangles. Then I inked around the edges of the vertical paper strip and placed it on top of the rectangles. Finally, I stamped the greeting and inked around the edges. The rectangle stamp is "diffusion" hamptonart.com DF2102 Collage Rectangle.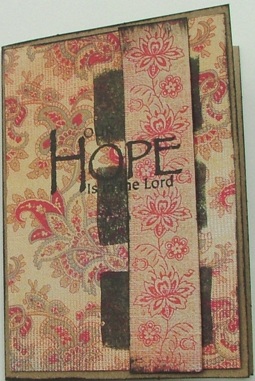 What about next month?

I'm not sure yet...I'll probably continue working on the digital scrapbook class over at TwoPeas. Then I also plan to work on my baby mini album. I might add some to my rolodex album? We'll see...stay tuned to Youtube to find out.

Until sometime around the middle of April…


Send Me Your Layouts...


I'd love to see what you've been up to. I'll pick 2 or 3 for each issue and publish them along with your photo (if you want) and a bio about your real life scrapbooking adventures. So, send them to Rachel@free-scrapbooking-ideas-and-videos.com with "e-zine layout submission" in the subject line.





New!

CommentsHave your say about what you just read! Leave me a comment in the box below.