click here and read back issue January 2014 to see the full version.


Hey, Ya'll,

I try really hard to have an e-zine issue for each month and to get it out around the middle of each month. I didn't make it for November 2013 and I thought I wasn't going to make it for this month, but I'm getting it done tonight...on the last day of January...better late than never. : )

Hope you enjoy the scrapbook layouts this month!



What's New?


Part 2 of How I Overcome Scrapper's Block (VIDEO)



Scrapbooking Doesn't Have to Be Complicated: Part 2 Childhood Scrapbook Layouts Memorabilia (VIDEO)



What Would You Do For This Scrapbook Layout? (VIDEO)



Scrapbooking Doesn't Have to be Complicated: Part 3 Childhood Scrapbook Layout Memorabilia



Wanna find something on my site? - I have a search box, yeah! SEARCH BOX



Ways to keep in touch -

My website!

My YouTube Channel!

My Facebook Page!

Pinterest!


Also, let me know what you'd like to see included in upcoming issues. Send me a line at rachel@free-scrapbooking-ideas-and-videos.com. You might have to go through my contact page at the main site because that address has heavy spam filters on it...I might not get it if you just send it from your email program. : )


For Member's Only…


When you subscribe to The Real-Life Scrapbooker's Resource, you get access to all of the back issues. Every issue is filled with exclusive layouts and ideas. You won't find any of the layouts or card designs anywhere* on free-scrapbooking-ideas-and-videos.com so it's a FREE Member's Only area. Every month you can count on fresh, free ideas for your scrapbooking! And here's another thought. Every month, put the new issue in a folder in your email software and when you sit down to scrapbook, you'll have tons of ideas right at your fingertips.

* Disclaimer: I don't put links to any of the layouts or cards from my e-zine issues but search engines do find them...including my own on this site. I've decided to keep it this way 'cause it helps my traffic. How's that for a "real-life" disclaimer for you? : ) There's also 1 set of my YouTube videos where I show a good bit of a paperbag scrapbook that I featured in an e-zine edition. I do the very best I can to give you fresh content each month. Thanks!


Subscribe to The Real-Life Scrapbooker's Resource


Scrapbooking - Creative Memories Style

Who remembers learning to scrapbook with Creative Memories? That's how I learned back in the late 90's. One of my Mom's friends was a CM consultant and she offered to teach us. Mom was always wanting us to be creative and learn crafts so we did. It's amazing what the scrapbooking industry has become since those days. I learned to scrap in chronological order and with the old CM albums, I had to think about what was going to go on the backside of each page. Then, in 2005-06 as a young mom, I started reading scrapbook blogs and Creating Keepsakes magazine and I started following Ali Edwards blog. A whole new world of scrapbooking the everyday moments opened up to me and I've enjoyed not being held to the chronological "caught up" mentality. But I also missed that too. Now, I do Project Life along with 12 x 12 pages of whatever I want to scrap. It's the best of both worlds.

For this 12 x 12 layout, I used a tiny stripe pattern for the background. I cut down another 12 x 12 piece with the little floral print and then tore it across the top. Next, I tore off the edge of a tan piece of card stock and inked the edges. I used a small piece of blue pattern paper to place behind the photo. The tiny brown checked patter square punch-out and the tag are from a paper pack set I got at Target a long time ago. The title "1997" is done with stamps and I added the brown satin ribbon to the tag. Finally, I did the hand journaling.



Supplies:

Background paper: Mosaic Memories paper pack by Recollections - Michael's house brand. I love this paper pack and use it all the time...great investment!

Stamps: Hampton Art - 7 Gypsies SC0501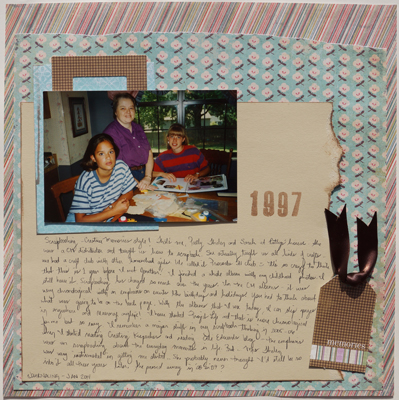 Friends

I took this photo specifically for this layout! Well, actually my friend's 11 year old daughter took the photo for us one day after church. I had this letter and birthday card from my friend and I knew I wanted to scrapbook them but I didn't have a photo of us together. We've been friends for 12 years or so and really didn't have any pics together...maybe 'cause we're adults and not taking selfies : ) Anyway, it's ok to "stage" a photo.

I used the purple tone-one-tone alphabet paper for the background and inked black around the edges. Then I cut a piece of grey card stock and inked around the edges of that too. I added the "Friends" title and the flourish stamp and then did the hand journaling. I didn't attach the letter or birthday card...they are just going to go into the page protector.




Supplies:

Background paper: DCWV Die Cuts with a View paper pack - The Old World Stack - another Michael's buy : )

Title: Making Memories Rub-ons - Hudson black


Swirl stamp: Inkadinkado - Sketchy Flourishes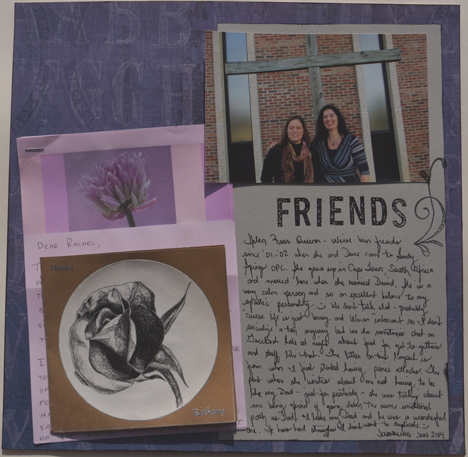 What about next month?

You just never know. We'll see...stay tuned to Youtube to find out.

Until sometime around the middle of February

Send Me Your Layouts...


I'd love to see what you've been up to. I'll pick 2 or 3 for each issue and publish them along with your photo (if you want) and a bio about your real life scrapbooking adventures. So, send them to Rachel@free-scrapbooking-ideas-and-videos.com with "e-zine layout submission" in the subject line.