click here and read back issue December 2013 to see the full version.


Hey, Ya'll,

I am so human and time goes so fast! Can anyone relate? : ) I try to get an e-zine sent out once a month but November whizzed by and here I am at the beginning of December. I'm hoping to go ahead and send this out and call it November and then send another one later in the month and call it December. Hopefully...well, I wrote this a week ago...at this point, I'm going to call this December and just skip November. : )

Hope you enjoy the scrapbook layouts this month!



What's New?


Scrapbook Ideas: Update #6 Project Life Inspired Album (VIDEO)








Wanna find something on my site? - I have a search box, yeah! SEARCH BOX



Ways to keep in touch -

My website!

My YouTube Channel!

My Facebook Page!

Pinterest!


Also, let me know what you'd like to see included in upcoming issues. Send me a line at rachel@free-scrapbooking-ideas-and-videos.com. You might have to go through my contact page at the main site because that address has heavy spam filters on it...I might not get it if you just send it from your email program. : )


For Member's Only…


When you subscribe to The Real-Life Scrapbooker's Resource, you get access to all of the back issues. Every issue is filled with exclusive layouts and ideas. You won't find any of the layouts or card designs anywhere* on free-scrapbooking-ideas-and-videos.com so it's a FREE Member's Only area. Every month you can count on fresh, free ideas for your scrapbooking! And here's another thought. Every month, put the new issue in a folder in your email software and when you sit down to scrapbook, you'll have tons of ideas right at your fingertips.

* Disclaimer: I don't put links to any of the layouts or cards from my e-zine issues but search engines do find them...including my own on this site. I've decided to keep it this way 'cause it helps my traffic. How's that for a "real-life" disclaimer for you? : ) There's also 1 set of my YouTube videos where I show a good bit of a paperbag scrapbook that I featured in an e-zine edition. I do the very best I can to give you fresh content each month. Thanks!


Subscribe to The Real-Life Scrapbooker's Resource


Home School Skating Party 1991

Wow! I love scrapbooking old photos...from my childhood. Remembering where I come from is good therapy for me. It helps me to reflect on God's mercy and things I've learned and how to grow in the future.

I was able to remember most of the names of the people in the photos...the moms and the kids. I went ahead and did a lot of journaling on the back side and listed names mostly in order of where they were standing in the photo. I included little tid bits about the people and how I got to know them or things that stood out to me.

During those years, I wrote articles for our local paper about our home school group. I found one of them and included it...not sure how it survived all those years? : )

The burgundy strip and the polka-dot strip are patterned paper. I used the same burgundy paper to mat the photo. The 3 circles in the upper left are made with my circle punches. As a finishing touch of embellishment, I glued on the blue bling.

Supplies:

Background and polka-dot paper: Cloud 9 Design Specialty Paper Pack

Stamps: Technique Tuesday - Infinite Wisdom/Times to Treasure and Just Picked. The arrow stamp is from a little mini pack of cling stamps from Michaels - their house brand I think?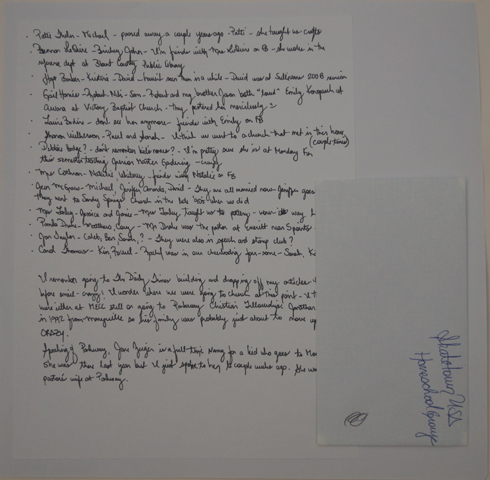 Family Friends Scrapbook Layout

This photo is from 1997. These are dear family friends who I don't see much any more. Our families spent lots of time together during my growing up years so when I saw this photo, I knew I wanted to scrapbook it. I also found a birthday card from one of them (we were like siblings) and a thank you note from his wedding. I decided to put them together.

The paper scraps are from the same paper pack except for the dark purple card stock. I also used hand doodling in my favorite dot-dash-dot pattern. The 3 little semi-circles along the top are from where I punched out the semi-circle indents along the bottom left. I love using the positive and the negative space from punches.




Supplies:

Background paper: Recollections brand paper pack from Michaels - Mosaic Memories

Accent papers: same paper pack Embellishments: gold "bling"


Can you see how I do things "in series"? - When I sit down to scrapbook, I usually end up using the same products on the layouts that I do at the same time...just stay with the flow of what's working!






The photo below shows you how I attached the birthday card and then I just tucked the thank you note into the same envelope!






What about next month?

You just never know. We'll see...stay tuned to Youtube to find out.

Until sometime around the middle of January

Send Me Your Layouts...


I'd love to see what you've been up to. I'll pick 2 or 3 for each issue and publish them along with your photo (if you want) and a bio about your real life scrapbooking adventures. So, send them to Rachel@free-scrapbooking-ideas-and-videos.com with "e-zine layout submission" in the subject line.