If your email reader translated this issue into text (you can't see photos) click here and read back issue August 2012 to see the full version.


Hey, Ya'll,

Wow! Time flies...Summer is winding down soon and there are some signs of Fall in the air. I'm still mowing and doing yard work. My squash has stopped producing and so have my blackberries but my tomatoes are still going strong! Thank You, Lord.

Scrapbooking has been getting done 15 minutes here and 15 minutes there. Sometimes it ends up being a bit longer but that's good too. : )



What's New?


How To Make a Scrapbook Rolodex Mini Album YouTube Video

I've put together a little tutorial on how to create a scrapbook rolodex mini album. I keep my rolodex in my china cabinet along with some of my other creative albums like my wine glass scrapbook.

The thing that I love about rolodex albums is that I can scrap a lot of photos quickly and the small prints are very economical! And I can journal on the back of the card. You'll see what I mean...I've included 4 of my latest cards here in this ezine. You can find 1 card a day featured on my blog ...I'm running a little mini-series right now. : )



How To Create Ric-Rac with Paper and Wavy Edge Scissors



Wanna find something on my site? - I have a search box, yeah! SEARCH BOX



Ways to keep in touch -

My website!

My Blog!

My YouTube Channel!

My Facebook Page!

Pinterest!


Also, let me know what you'd like to see included in upcoming issues. Send me a line at rachel@free-scrapbooking-ideas-and-videos.com. You might have to go through my contact page at the main site because that address has heavy spam filters on it...I might not get it if you just send it from your email program. : )


For Member's Only…


When you subscribe to The Real-Life Scrapbooker's Resource, you get access to all of the back issues. Every issue is filled with exclusive layouts and ideas. You won't find any of the layouts or card designs anywhere on free-scrapbooking-ideas-and-videos.com so it's a FREE Member's Only area. Every month you can count on fresh, free ideas for your scrapbooking! And here's another thought. Every month, put the new issue in a folder in your email software and when you sit down to scrapbook, you'll have tons of ideas right at your fingertips.


Subscribe to The Real-Life Scrapbooker's Resource


Rolodex Scrapbook Mini Album 1

Oh...my crazy kiddos! They made pill bug habitats (rolly polly)one afternoon and were very proud of them. I took this photo of them and, of course, they gave me their crazy faces. : )

I used dark blue card stock for the background and then added the layer of striped paper. I cut the top off of the striped paper using my wavy edge scissors. Next, I attached the photo and then added the white ric-rac and attached it with staples. Finally, I inked all around with my black ink pad.





Rolodex Scrapbook Mini Album Card 2

Wolverine! Yep...that's what you get when you have boys...superhero everything! I used dark blue card stock for the background. Next, I added the polka dot paper and then the photos. Finally, I inked everything with my sepia ink pad.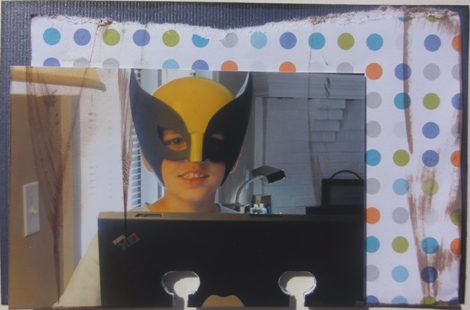 Rolodex Scrapbook Mini Album Card 3

My sister and her husband and my husband and I all went on a double date recently and went bowling. We never go out together so it was a fun time and I actually took some photos. Most of them didn't turn out 'cause of the low lighting but they still have a fun blue tint to them. I love how they turned out on this bright yellow card stock back ground. I used lime green pigment ink around the edges of the card and then attached the fiber pieces with staples. The flower peeking out from behind the top right corner is a stamp. : )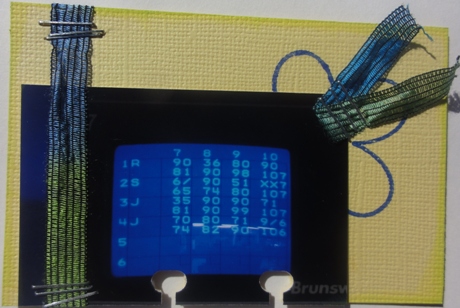 Rolodex Scrapbook Mini Album Card 4

Here's card #2 from the double date bowling pics. I used the same look for this one so when they're in the rolodex album, you can tell they go together. Have I mentioned that I love my rolodex album and I'm thankful that Donna Downey came up with the idea?!!?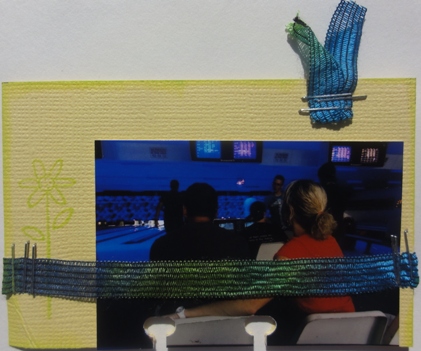 Chocolate or Facebook


I couldn't decide what to title this one? One day I posted the 4 x 6 photo on Facebook with the status "This is my life!" and then I got lots of comments - some of them cracked me up. So, I when I saw this photo again as I was trying to decide what photos to scrap, I knew I had to print these. I also have quite a few other mud layouts...cause my boys love to play in the mud.

The main journaling for this layout is the comments from that Facebook post. I copied and pasted them into a word processor and then re-sized them to fit the space that I wanted. I will probably add my own journaling/story to the back of this layout. Sometimes I just can't find a way to put it on the layout itself and fit it into the design.


I used brown patterned paper for the background from Cloud 9 Designs Specialty Paper Pad Glitter Papers. The flourish patterned paper is also from the same pack. The ribbon running horizontally along the bottom of the small photos is from American Crafts Elements - not sure which color pallet? I also used a stamp right above the title. It is circles and I used my red pigment ink pad. It turned out pretty subtle but I like the extra touch of red.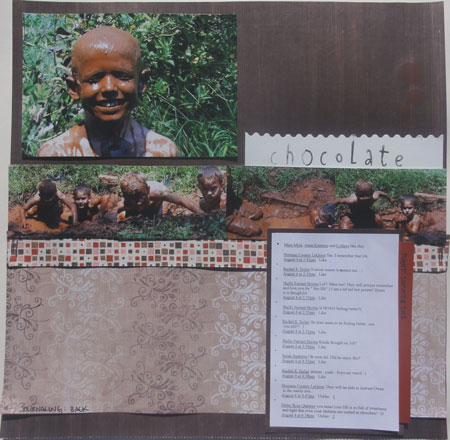 Family Time

I don't really have a title for this one. If you watched my YouTube sneek peak video , you might be wondering which papers I ended up using. And the answer is...the ones I thought I would use. Yay! That is usually what happens but you never now. It is fun to have different options...sometimes I get overwhelmed and "overanalyze" it. lol So, I just went with it and I like the way it turned out. I do like the way the pink worked with the pink in the photos.

Supplies:

Hot pink paper - paper pack by Cloud 9 Design - Specialty Glitter Papers

Stripe paper - My Mind's Eye - Kaleidoscope Pink Multi Stripes

Background paper - Canson Expressions Cornsilk Silk. It is a specialty paper that I think came from my local scrapbook store?

Flower stamp: Stampabilities

Circle stamp: Stampin' Up

Butterfly stamps: Stampin' Up Ladybug Picnic (I'm pretty sure)

Journaling block stamp: Stampabilities









What about next month?

You just never know. We'll see...stay tuned to Youtube to find out.

Until sometime around the middle of September

Send Me Your Layouts...


I'd love to see what you've been up to. I'll pick 2 or 3 for each issue and publish them along with your photo (if you want) and a bio about your real life scrapbooking adventures. So, send them to Rachel@free-scrapbooking-ideas-and-videos.com with "e-zine layout submission" in the subject line.